You are here
Social Studies
---
News & Announcements
Just Released!  High Impact Instructional Strategies for the Social Studies Classroom Modules:  These modules represent a few high impact instructional strategies for the social studies classroom.   While there are numerous teaching strategies for effective social studies instruction, the research on high-impact instruction in social studies (in terms of a positive impact on student learning) focuses primarily in two areas: historical thinking, and civic knowledge and skills for citizenship. History education researchers tend to focus on how students analyze multiple historical documents and develop historical arguments, while civic education researchers focus on students' evaluating information about public issues from multiple sources and viewpoints and develop reasoned judgments (Barton, K.C. & Avery, P.G., 2016, p. 1002). In addition to instructional strategies, each module provides examples that can be used in the classroom, as well as resources for further learning.
Social Studies Standards Revision Process Has Begun: Academic standards in social studies, dance, drama/theatre arts, music, and visual arts are being revised in 2021-2022, as a result of a new standards revision schedule required under House Bill 20-1032 (section C.R.S. 22-7-1005(6)) passed during the 2020 legislative session. We encourage all stakeholders to contribute comments about the current standards by emailing the department at any time during the revision process costandardsrevision@cde.state.co.us . Your feedback will be used by review and revision committees to shape the updated standards.  Visit the  Social Studies Standards Revision webpage for updates and opportunities to provide feedback.
 
Holocaust and Genocide Education in Colorado Public Schools: On July 8, 2020, Governor Polis signed into law HB20 – 1336.  This legislation includes several elements focusing on the teaching of the Holocaust and Genocide in Colorado.  Specifically, on or before July 1, 2023, each school district Board of Education and charter school shall incorporate academic standards on Holocaust and Genocide studies into an existing course that is currently a condition of high school graduation.  Said standards shall be recommended by a stakeholder committee and adopted, on or before July 1, 2021, by the State Board of Education and should identify the knowledge and skills that students should acquire related to Holocaust and Genocide studies, including but not limited to the Armenian genocide.  In addition, the CDE shall create and maintain a publicly available resource bank of materials pertaining to Holocaust and genocide, no later than July 1, 2021.  To learn more about this legislation click here.

History, Culture, Social Contributions, and Civil Government in Education Commission: During the 2019 legislative session, the Colorado General Assembly passed House Bill 19-1192 concerning the Inclusion of Matters Relating to American Minorities in the Teaching of Social Contributions in History and Civil Government in Public Schools.  This legislation creates a Commission appointed by the Governor, the Commissioner of Education, and the President of the State Historical Society.  To learn more about the 1192 Commission, click here.

Nuu~ciu Strong: A Colorado Fourth Grade Resource Guide, Lessons About the Ute People of Colorado. Nuu~ciu Strong is a resource guide for fourth grade teachers to use to support teaching the history, culture, and present lives of the Ute People.  This resource was developed in collaboration with Colorado's Ute Tribes, the Colorado Commission on Indian Affairs, the Colorado Department of Education, History Colorado, the Denver Public Library, the Denver Art Museum, and educators statewide.

Elementary Primary Source Sets!   A collaborative of educators, museum personnel, and others worked together to create primary source sets for grades K-6. Currently, there are at least 3 primary source sets for each grade level. Also, look for the  primary source analysis sheets geared specifically to elementary students!  The worksheets can be found on the Elementary Primary Source Sets webpage.
---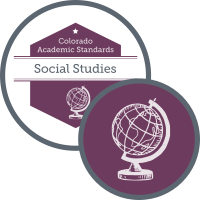 Academic Standards
Preparing students for the 21st century cannot be accomplished without a strong and sustaining emphasis on the social studies. The social studies provide cornerstone skills that are the key to opening doors for a more diverse, competitive workforce and responsible citizenry.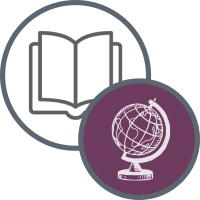 Curriculum Support
Article IX, Section 16 of Colorado's constitution states, "Neither the general assembly nor the state board of education shall have power to prescribe textbooks to be used in the public schools." However, CDE can still serve as an advisor to help districts and schools adopt, adapt, develop, or use the materials of their choice.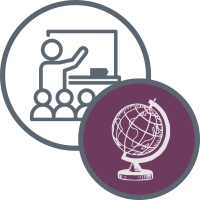 Instructional Support
Instructional support is grounded in CDE's shared approach to Best, First Instruction as well as practices and strategies supported by professional organizations and scholars at the leading edge of social studies education.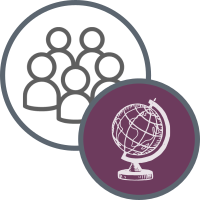 Community
There are many opportunities to connect and grow as a professional educator with the larger Social Studies education community.
---
---
For further assistance, please contact: