You are here
PWRful Demonstrations of Learning

Overview
​When students engage in PWRful Demonstrations of Learning they:
build portfolios of collected and curated artifacts and/or 
showcase their knowledge, skills, and abilities in a presentation.
Sample artifacts that could be included in a learner's portfolio:
Career and college research & exploration + match with strengths, preferences, attributes  and interests
Pathways development
Coursework - content area classes and CTE
Job search activities using online tools such as USA Jobs, My Colorado Journey Connecting Colorado, etc.
informational interviews
Applications for employment, for college, for the military
Letters of recommendation
Resume
Scholarship searches and applications
Reflections about:

classes, including CTE and Concurrent Enrollment
guest speakers and career fairs
college visits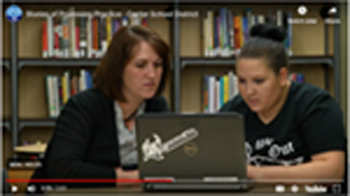 Katrina Ruggles talks about PWRful Demonstrations of Learning and the Capstone process in Center Consolidated School District
Promising Practices - Capstone and Junior/Senior Projects
 
Senior Capstone -  Center Consolidated District
Students in Center start collecting evidence for their capstone process in 6th grade.  In 11th grade, they complete a culminating capstone, and in 12th grade, they complete an Exit Interview. These presentations are in front of staff, parents, peers, and community members.
Digital Portfolios – D49
Note to students: "Digital Portfolios are finally coming to the POWER Zone and we want you to be the first to hear about it! Below is a Slides presentation explaining what the plan is and how to get started, though most of you will be creating these in your Pathways or REACH classes. There is also a quick "cheat sheet" that can be printed for quick reference when creating your Google Site. We want to hear your feedback about this process, so be on the lookout for surveys being sent your way throughout the year. Thanks!"
District/School:  D49/Vista Ridge HS
Senior Capstone - Roaring Fork Schools
Description, There are six required components of the Senior Capstone:  The Six Ps  - Proposal, Product/Service/Fieldwork, Paper, Portfolio, Poster, and Presentation
---