You are here
Commissioner of Education
Commissioner's Office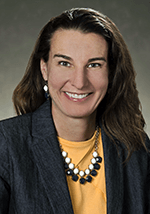 Katy Anthes, Ph.D.
---
Apply for the 2021 Commissioner's Teacher Cabinet
Applications Due Friday, Aug 13 by 11:59pm.
---
Commissioner's Teacher Cabinet
The Commissioner's Teacher Cabinet is a group of practicing teachers from around the state that serve as a sounding board for the implementation of state education policy and will brainstorm solutions for challenges facing today's educators. The cabinet shares new solutions on issues such as raising achievement for all students, supporting low-performing schools and increasing the number of individuals joining the profession.
Learn more about the commissioner's teacher cabinet and its members.
---
Commissioner's Office Overview
The Commissioner's Office directs the Colorado Department of Education's (CDE) activities, completion towards statutorily required tasks, and attainment of CDE's goals. The Commissioner, along with her Executive Team, ensures that the strategic plan also guides CDE's work. The strategic plan receives input from CDE staff and is revised annually.
---
Commissioner's Office Responsibilities 
Advise the State Board, concerning the current operation and status of the public schools, and other education matters.
Establish and maintain, a system of personnel administration, within the department.
Ensure all policies, rules and regulations adopted by the State Board are duly executed.
Visit local education agencies, schools, communities and key education partners at the local, state, national and global levels.
Prepare and submit, to the State Board, a budget for the department and properly execute the approved budget in accordance with appropriations.
---
Commissioner's Executive Team
Marcia Bohannon, Chief Information Officer
Melissa Colsman, Associate Commissioner of Student Learning
Rhonda Haniford, Associate Commissioner School Quality and Support
Jennifer Okes, Chief Operating Officer
Colleen O'Neil, Associate Commissioner of Educator Talent
Alyssa Pearson, Deputy Commissioner
Dana Smith, Chief Communications Officer
Joyce Zurkowski, Chief Assessment Officer
View executive team photos and biographies
---
Commissioner's Communications to Superintendents and BOCES Directors
---
Commissioner's Statement on Race and Equity in Education ─ June 10, 2020
During the last few weeks, we have felt the dramatic pain, suffering and anger in response to the killing of George Floyd and so many before, and it has caused me and many others to take a deep look inward.  I have been observing, thinking, listening, learning and grieving with so many across our state and country.  I've been listening and reading about race, racial injustice and how to bring about real change. I have been trying to figure out how to lead through this.  I have a lot to learn, as many of us do.
I can say that I am heartbroken by the last two weeks, but even more heartbroken by the years of disappointment that Black Americans and all people of color – our colleagues, peers, friends and students of color – have had to endure. 
We are in the business of education and education governance. The mission of the Colorado Department of Education is to ensure equity and opportunity for every student, every step of the way.  And we are falling short. The events of the last several weeks, and long before, highlight how much work we have to do and how much learning we have yet to make. The anger, pain and disappointment across the state and country reflect the needs that we have seen for years in our outcome data, and it calls us to do better and more.
In Colorado, we have not yet provided adequate opportunity and access for students from a number of historically underserved backgrounds ─ specifically those from economically challenged communities, highly mobile families, racial minority groups, English Learners and students with disabilities ─ to meet their academic potential and gain the skills and knowledge they need to succeed in today's economy and thrive in our communities. We know education is a foundational right and one that is a vehicle to a more fair, just and prosperous life. We must do more to concentrate on equity as a foundational construct of our work at CDE; we must do better to empower schools and districts in their efforts to increase access and opportunity and ultimately change the systemic structures leading to inequities in student success.  
While we don't have all the answers to break these long-held barriers, and it will certainly not be easy, we are committed to learning more and advocating for change to create a more equitable school system where regardless of skin color, students have access to equal opportunities in their lives.
---