You are here
ICAP Background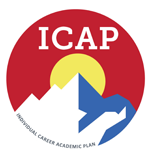 ---
Introduction
Since the release of ICAP legislation in winter 2009, students have been building ICAPs with the support and guidance of educators, industry partners and pre-collegiate groups. Beginning in ninth-grade (and earlier in many schools), students have been learning how to discover interests, plan intentionally and build pathways to success for life after high school.
In the last few years, CDE partnered with the Colorado Community College System, career and technical education and the Colorado Department of Higher Education to conduct environmental scans, formal and informal interviews, statewide technical assistance and professional training.
From the feedback CDE received from school and district staff, the ICAP work group, (one of seven graduation guidelines committees) worked to refresh ICAP in a few important ways:
Postsecondary and Workforce Readiness (PWR)
ICAP is the vehicle by which Colorado students explore the world beyond high school and reflect their understanding and plan for these next steps. ICAP is also a tool that reflects how a student's PWR is achieved, accomplished and understood.
Process
ICAP is a multi-year process, one that will span the lives of students who are now in middle and high school and that will continue into adulthood. By adopting research-based best practices and by revamping our knowledge for developmentally appropriate ICAP activities with secondary students, Colorado now focuses on a meaningful process which results in a plan.
School Culture
When all school leaders and educators are engaged in ensuring that students gain the knowledge, skills and aptitudes to explore career and academic pathways, a successful ICAP process is engrained in the PWR-going culture of school.
---
History and Context
2008- CAP4K
In response to the "widening achievement gap, unacceptably high dropout rates throughout the state, unacceptably low numbers of high school graduates who continue into and successfully complete higher education and an unacceptably high need for remediation among those who continue into higher education," the Colorado legislature passed the most sweeping reform law in its history, Senate Bill 08-212, Colorado's Achievement Plan for Kids (CAP4K).

Signed into law in 2008, the goal of CAP4K is to align Colorado's preschool through postsecondary education system calling for new standards and assessments for Colorado's children, with a focus on both school readiness and postsecondary and workforce readiness.
2009 – Senate Bill 09-256
Additional laws were passed which led to the creation of several education reform initiatives to be implemented by school districts across the state. In 2009, Senate Bill 09‐256 was enacted into law with a requirement that by September 2011, all students grades 9 ‐ 12 would have access to a process within their high school to create and manage an individual career and academic plan (ICAP.)

The legislation also authorized the Colorado State Board of Education to adopt rules to define the requirements and processes for districts to accomplish this task.
2010 – Rules for ICAP
The state board of education adopted rules to define the requirements and processes for districts, which included the mandate that all school districts develop an ICAP implementation plan by September 2011.
2011 – Milestones and Survey
To guide and assist districts in the development and implementation of the ICAP, ICAP milestones and indicators were developed for each grade level, nine – 12.
2013 – Graduation Guidelines and the ICAP work group
The state board of education adopted Colorado's graduation guidelines in May 2013. ICAP is embedded in these guidelines. Authorized by CDE, an ICAP work group was formed. The work group, including stakeholders from across the state, was charged with accomplishing the following tasks:
Identify opportunities, challenges and best/promising practices
Develop implementation recommendations
Explore and outline resources and tools
Align skills, abilities and knowledge that are valued by business, industry and higher education.
Outline systematic pathways for students to explore and develop these skills
Identify stakeholder connections and messages
Maintain a written record of implementation recommendations, tools and resources, best/promising practices and relevant discussions
CDE began researching current and promising practices and complied resources and tools for ICAP implementation. A survey was conducted to gauge the status of ICAP in districts across the state.
2014 – ICAP Refresh and Recommendations
The work and recommendations of the ICAP work group was presented to the board in December 2014. The Colorado Department of Education will request public comment and request that the work group update and provide final recommendations based on evidence-based practices and consideration of public comments.
---
ICAP has a strong, intentional connection with readiness for career and college. Also, ICAP is aligned with other PWR programs in Colorado.
ICAP is:
An expectation for high school graduation beginning in the 2014-15 academic year with graduation guidelines
A key element of PWR that many districts and high school reference as a tool within their unified improvement plan (UIP)
Required for all students and reinforced by programs, including concurrent enrollment, Accelerating Students through Concurrent ENrollmenT (ASCENT) and initial career and technical education (CTE)
Connected with the Colorado Academic Standards through the academic and 21st century skills; components
Embedded in multiple educator effectiveness rubrics as a student artifact and educator process
Benchmarked by employers; companies across Colorado continually reinforce their high expectations of student's ability to articulate their transferable skills
Connected with individualized education programs (IEP), advanced learning plans (ALP) and career and technical education and integrated with students' industry career pathways
A Meaningful ICAP for all Colorado Districts and Charter Schools
Begins in ninth-grade as an annual process (schools can voluntarily choose to begin ICAP in sixth-grade)
Is captured in an electronic or paper format to be saved with the student's record
Encompasses individual/self-discovery, career exploration, academic planning and personal financial literacy
Common Acronyms
ICAP: Individual Career & Academic Plan
PWR: Postsecondary Workforce Readiness
CCR: Career & College Readiness
IEP: Individual Education Plan
ALP: Advanced Learning Plan
ASCA: American School Counselor Association
CTE: Career & Technical Education
POS: Plan of Study
SpEd: Special Education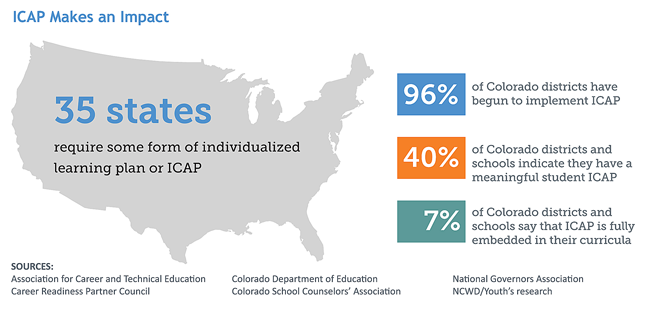 ---
ICAP 2014 Refresh
Focused on milestones
Task-focused NOT student focused
Checklist completion
School counselor initiative
Lacked meaning and integration
Survey data
ICAP legislation now connected to nine other programs and PWR
PWR/CCR is the BIG picture
Refresh ICAP: redefine and pause
Focus on the process of student engagement
Focus on objectives
Research-based quality indicators
Re-introduces the importance of the I, the self-awareness of ICAP
Buy-in from all stakeholders and ICAP guides: School counselors, CTE, educators, SpEd/transition specialists, school leaders
Deep connection to the bigger picture of CCR/PWR and graduation guidelines
Relevant and connected with school culture and goals
---
Alignment (Crosswalks)
A crosswalk is a document designed to support educators who work directly with students in order to help them grow into prepared and competent high school graduates, ready to enter the adult world. Crosswalks should help school leaders and educators inform decision-making and instructional planning around courses, units and lessons, as well as co-teaching, competency and work based learning opportunities.
Academic Standards, CTE and 21st Century Skills:
Individualized Education Plan (IEP):
---
Acknowledgements
CDE thanks the following professionals for their time, talents and dedication in spending more than a year updating ICAP guidance, tools and resources. We have heard from you that ICAP is most meaningful when effective tools and resources are shared among district and school educators.
Brenda Bautsch, Colorado Department of Higher Education
Natalie Bertrand, San Juan BOCES
Shondra Carpenter, Cherry Creek School District
Jenny Cureton, University of Northern Colorado
Alan Davis, University of Colorado - Denver
Lucia Delgado, Colorado State University
Tammy Dodson, Grandview High School
Scott Fast, Accenture Foundation
Anna Goetz, Educational Consultant
Sharon Glocker, CDE
Jane Goff, Colorado State Board of Education
Samantha Haviland, Denver Public Schools
Darcy Hutchins, Family Partnership Director, CDE
Lauren Jones, Colorado Community College System
Tyra Little, District 504
Tammy Lawrence, Adams 12 Five Star Schools
Gail Lott, CDE
Lisa Martin, Department of Corrections
Jaqueline Medina, CDE
Leann Morgan, University of Colorado, Colorado Springs
Lydia Nava-Cordova, Weld RE 5j
Barbara Norrbom, St. Vrain School District
Robin O'Meara, Summit School District
Johanna Peters, The Classical Academy Charter School
Julia Pirnack, College in Colorado
Eva Pugh, CDE
Robin Russel, CDE
Sonya Sallak, District 51
Scott Solberg, Boston University
Michael Stelling, Adams 12 Five Star Schools
Scott Stump, Colorado Community College System
Linda Tegtmeier, CDE
Tami Thompson, Salida Schools
Tracy Thompson, Colorado Community College System
Andrew Tucker, Boulder School District R 2j
Niki Weitzel, Thompson Valley Schools
Rhonda Wiliams, University of Colorado -Colorado Springs
Jon Widmier, Jefferson County Public Schools
Laurie Wetling, Educational Consultant
Special acknowledgement also goes to the ICAP coordinators, and to our partners at College in Colorado, the Community College System and the Department of Higher Education.
Contact
Robin Russel 
Graduation Guidelines Manager 
303-866-2908