You are here
Career Development Incentive Program
Overview 
The Career Development Incentive Program, or Career Development Success Program Expansion in House Bill 18-1266, provides financial incentives for school districts and charter schools that encourage high school students, grades 9-12, to complete qualified industry credential programs, internships, residencies, construction pre-apprenticeship or construction apprenticeship programs or qualified Advanced Placement (AP) courses.
Participating districts or charter schools could receive up to $1,000 for each completed credential, distributed in tiered order. 
---
Application Process
The application process is closed and will reopen in April 2021. 
---
What's New?
NEW! 2018-19 Fact Sheet
NEW! 2019-20 Fact Sheet 
NEW! 2019-20 Fact Sheet Extended
The 2019 Talent Pipeline Report- The Colorado Workforce Development Council is pleased to present the Colorado Talent Pipeline Report in partnership with the Department of Higher Education, the Department of Education, the Department of Labor and Employment, and the Office of Economic Development and International Trade, with support from the Office of State Planning and Budgeting, the State Demography Office at the Department of Local Affairs, and others.
NEW- Career Development Incentive Program List of Approved Programs - The list of approved programs is now over 250 credentials, however, a few credentials have been removed because they no longer fit the selection criteria. The new list in the 2019 Talent Pipeline Report will be effective for the 2020-2021 school year. This means that if you are currently offering a credential that has been removed it will still count for the 2019-2020 school year only. If you are offering a credential that is on the new list but was not on the previous list you are able to count it for the 2019-2020 school year. 
List of Industry Credential by School District
---
Request Industry Certification Inclusion
Please complete the form below if there is a program or industry certification that is not on the official Approved Programs List in the Talent Pipeline Report and there is sufficient evidence to demonstrate industry demand and credibility for the requested program/certification.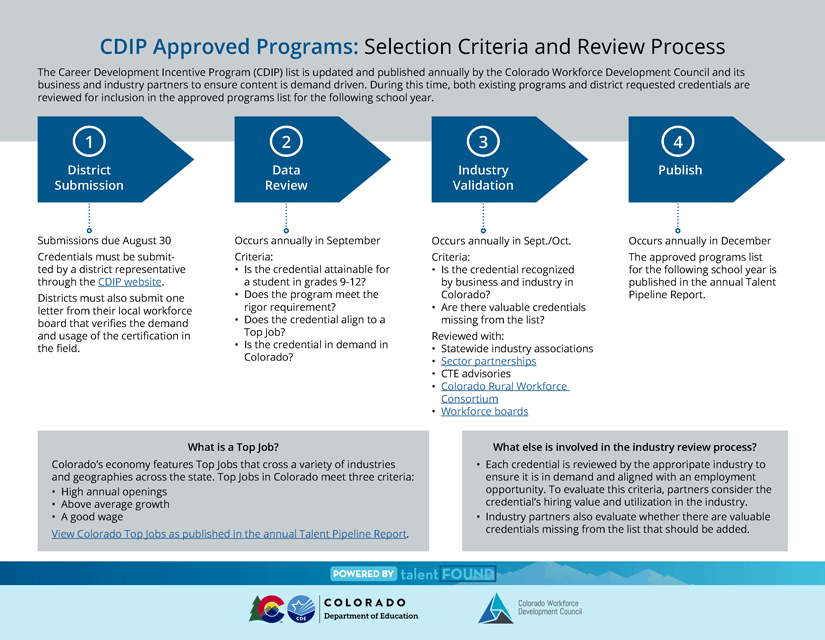 Internship Criteria
Internship Criteria PDF (with active links)
---
Career Development Incentive Program Guidelines and Resources 
Application Resources
Other Resources
---
Contact
Marina Kokotovic