You are here
Meaningful Career Conversations
Overview
When students engage in Meaningful Career Conversations, they begin to understand how their unique aptitudes, skills, talents, self-identity, and values influence the decision-making process for life-long learning.
---
Career Conversation Training - Coming soon!
Listening Tour => August - December 2023
          Launch =>  January 2024
Details will be posted here, soon!
Meaningful Career Conversations Prompts and Practices
The Career Conversations starters and questions provide a guide for families, educators, and community members - any caring adult - to engage with learners in their journey to Postsecondary and Workforce Readiness (PWR). They were created by the American School Counselors' Association (ASCA) and the Colorado Department of Education (CDE) and are based on ecosystems theory, counseling theory and an extensive review of counseling and career counseling literature.
The Colorado Education Initiative and the Colorado Department of Education (CDE) developed a framework for training that includes hundreds of resources. Access the self-paced training that is free and open to the public.
Find resources for the seven steps of Career Conversations
​​Understand your role
Establish trust and Introduce the process
Focus on the advisee
Explore interests and aptitudes
Envision the future
Encourage action
Celebrate success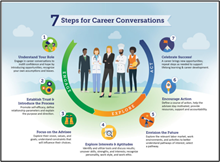 Pick one of many videos designed for each level, Elementary, Middle, and High School, each is about 3 minutes long.
Created by: Lauren Jones, CTE program director for special populations, counseling, and equity
A Testimonial
"My counselor worked with me and gave me coping skills; my teachers actually understood, and they were aware of everything. They all helped me see my potential… Never allow others to tell you what you can't do, never let the limitations of others limit your vision. If you can remove your self-doubt and believe in yourself, you can achieve what you never thought was possible."
- Idania Balbuena Erives, CEC graduate with a CNA certificate, Class of 2019
---
Meaningful Career Conversation Prompts: Answer their questions!
Jane Goff
Colorado State Board of Education
7th Congressional District
Sarah Heath
State Director of CTE, Associate Provost
Colorado Community College System
Jon Widmier
Coordinator of Social Emotional Behaviors
Littleton Public Schools
George Welsh
Superintendent
Canon City Schools
Kevin Aten
Superintendent
Bayfield School District
Cheryl Lovell
President
Adams State University
Rich Feller
Professor
Colorado State University

Send us your MCC prompt!

Send us your MCC prompt!
---