You are here
Online Resources for Secondary Science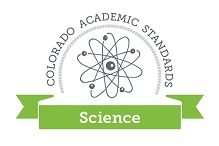 Teaching the Colorado Academic Standards in science is supported through a wide array of free instructional resources. This page highlights resources within the following categories: Media services, On-line simulations, General science, Science and Engineering Practices, and Technology in education.
The resources provided on this website are intended to provide a quick access list for educators to use in a way that supports their instructional planning. Provided resources should be previewed and used with teacher discretion. Because this page contains resources outside of the CDE website, CDE cannot control changes in outside content and listing these resources does not indicate an endorsement by the Colorado Department of Education. 
---
Colorado Academic Standards-Science
A Framework for K-12 Science Education: Practices, Crosscutting Concepts, and Core Ideas
Released by the National Research Council (NRC) in July 2011. The framework identifies the key scientific ideas and practices all students should learn by the end of high school. The framework is also designed to be useful for curriculum and assessment designers, teacher educators, and others who work in K-12 science education.
---
Family and Community Guides to the Colorado Academic Standards in Science
---
Colorado District Sample Curriculum Project
Curriculum Overview Samples
Colorado educators worked with fellow educators and the Standards and Instructional Support team in grade level and content area teams to engage in process of translating Colorado Academic Standards (CAS) into curriculum overview samples.
Instructional Unit Samples
Colorado educators worked with fellow educators and the Standards and Instructional Support team to build units based on select curriculum overview samples. In three-day workshops, district-teams of general education, special education, ELL, and gifted and talented educators/specialists worked together to plan for the instruction of all students. The following links will redirect you to webpages that contain grade level instructional units for all content areas.
---
Media Services
Bill Nye the Science Guy
Bill Nye, most widely known as the zany host of 'Bill Nye the Science Guy', a show geared towards exposing young viewers to all different forms of science, is back with a new series aimed at a more mature audience. In his new series, 'The Eyes of Nye', Bill explores some of today's most controversial topics as well as taking a look at everyday science.
Colorado Academic Standards –Technology Narratives Created by St. Vrain Valley School District
The Colorado Academic Standards highlight both content and skills students should achieve at each grade level. Specifically the standards were revised to include specific technology skills required of students to ensure that they are leaving Colorado school equipped with the skills to make them competitive in a global workforce.
DOGO Media
A next-generation online network empowering kids to engage with digital media in a fun, safe and social environment. "DOGO" means young or small in Swahili. While our young fans may be small, they act BIG as they engage with our websites and express their opinions on the content that interests and inspires them.
How-To Videos
Ward's Natural Science offers a long list of how-to videos for use in your class—from how to care for classroom creatures to lab safety (complete with pie-in-the-face action).
How Science Works
UC Berkeley Understanding Science site with interactive components, links for iTunes, and other resources for teachers and students.
Khan Academy
An organization on a mission, they are a not-for-profit with the goal of changing education for the better by providing a free, world-class education for anyone, anywhere.
Lab Out Loud podcast
Lab out Loud is a podcast and blog that discusses science news and science education with leading scientists, researchers, science writers and other important figures in the field.
Minerals Education Coalition
Is a non-profit organization dedicated to identifying, producing and disseminating fact-based K-12 minerals education lessons and activities.
MIT Science
Original Web-series from MIT showcasing Real Science by Real Students.
National Geographic YouTube Channel
Video resources
National Geographic Kids YouTube Channel
Video resources
National Park Web Rangers
The interactive Web Ranger program helps people of all ages learn about the national parks. You can explore over 220 national parks with virtual trail tours and more.
NOVA Science Now
Hundreds of FREE science videos with supporting materials such as discussion questions and interactive quizzes.
PBS Learning
A collection of Science resources from around the world. Including videos, interactive learning activities, links, images and more.
Science360
Video Library immerses visitors in the latest wonders of science, engineering, technology and math. Science360 engages students and teachers alike in the cutting-edge discoveries and big science stories of the day.
Subject Specific Science Apps for iPads
Apps that support the active investigation of science, including those that allow students to model scientific concepts, communicate scientific ideas, and explore problems through authentic uses of the tools of science.
Teacher Tube
Educational video community for teachers, students, and parents.
Ted ED
TED-Ed's commitment to creating lessons worth sharing is an extension of TED's mission of spreading great ideas. Within TED-Ed's growing library of lessons, you will find carefully curated educational videos, many of which represent collaborations between talented educators and animators nominated through the TED-Ed platform. This platform also allows users to take any useful educational video, not just TED's, and easily create a customized lesson around the video.
---
Interactive Simulations
Bouncing Ball
Drop the ball onto one of the three surfaces to test the bounce height and observe how the potential and kinetic energy rises and falls over time.
Convex/Concave Lens
Students shift the position of a piece of glass, altering its shape to a convex or concave lens, which affects how beams of light through the glass will converge or diverge.
Electric Motor
Have students test and explore an interactive animation of an electric motor. The coil will rotate when a current flows around it. Click the arrow buttons to turn the current on and off. Reverse the direction of the current to observe its effect on the coil's motion.
Google Sky
Teach your students about astronomy while peering up at a virtual universe. For a stargazing activity, choose your location via Google Earth and switch to the "sky" view, which shows the stars as they might appear from your own backyard.
Johnson Explorations
A variety of online simulations allow users to, for example, explore the architecture of a cell and vary its size, shape and number of surface villi to influence the ease of metabolites entering the cell and wastes leaving the cell.
Molecular Workbench
Provides visual, interactive computational experiments for teaching and learning science. Explore physics, chemistry, biology, biotechnology, and nanotechnology with interactive simulations.
PhET
Interactive Science Simulations- fun, interactive and research-based simulations of physical phenomena from the PhET project at the University of Colorado. All iPad compatible.
UCAR
Center for Science Education has a collection of interactives and simulations related to weather, climate, atmospheric science and space weather education.
---
General Science
AAAS Science Assessment
The assessment items on this website are the result of more than a decade of research and development by Project 2061, a long-term science education reform initiative of the American Association for the Advancement of Science.
A Framework for K-12 Science Education: Practices, Crosscutting Concepts, and Core Ideas
Released by the National Research Council (NRC) in July 2011. The framework identifies the key scientific ideas and practices all students should learn by the end of high school. It will serve as the foundation for new K-12 science education standards, which will be developed by a group of states to replace standards issued more than a decade ago. The framework is also designed to be useful for curriculum and assessment designers, teacher educators, and others who work in K-12 science education.
American Chemical Society
A congressionally chartered independent membership organization which represents professionals at all degree levels and in all fields of chemistry and sciences that involve chemistry.
A Parent's Guide to 21st-Century Learning
Download or share this free PDF with grade-specific resources to help parents nurture 21st-Century skills at home. No available in Spanish!
Atlas of Science Literacy, Volumes 1 and 2
Mapping K-12 science learning. Atlas of Science Literacy is a two-volume collection of conceptual strand maps and commentary on those maps that show how students understanding of the ideas and skills that lead to literacy in science, mathematics, and technology might develop from kindergarten through 12th grade.
BioLEAP
A comprehensive resource for teachers and school districts looking to introduce dissection alternatives into their curricula. 
Biological Sciences Curriculum Study (BSCS)
A non-profit curriculum study committed to transforming science teaching and learning.
BrainPop
Videos about science, math, engineering, etc.
Bozeman Science Videos
Site maintained by a science teacher in Montana, includes videos about Education with specific science and math subjects (anatomy, biology, chemistry, earth science, physics, statistics).
CLEANET
A collection of 600+ free, ready-to-use climate related resources rigorously reviewed by educators and scientists, suitable for K-12 classrooms.
Climate Literacy Principles
An inter-agency guide that provides a framework and essential principles for formal and informal education about climate change. It presents important information for individuals and communities to understand Earth's climate, impacts of climate change, and approaches for adapting and mitigating change.
Colorado Learning Attitudes about Science Survey (CLASS)
Part of the PhET (Physics Education Technology) Project and the PER@C (Physics Education Research Group at Colorado).
ComPADRE
A network of physics and astronomy online resources.
CU Learn More About Climate
Translates climate change information into resources and tools for teachers, policy makers, and citizens. Watch videos, schedule a guest speaker, find standards-based lessons and interactive resources.
Digital Library for Earth System Education (DLESE)
A free resource that supports teaching and learning about the Earth system. Resources include lesson plans, curricula, scientific data, visualizations, interactive computer models, and virtual field trips and labs, simulations, podcasts from kindergarten to graduate level. Also included are Earth Science literacy maps that relate to specific Earth science concepts and associated educational standards.
Discovery Education
offers a broad range of free classroom resources that complement and extend learning beyond the bell. Foster deeper engagement and opportunities for students to take charge of their own learning with high quality, engaging, relevant tools designed for today's busy teachers and parents. Explore using the links above for specific resources by grade. K-5 Lesson Plans Innovation Portal
Earth Science Week
Earth Science Week celebrates the theme "Earth's Connected Systems," emphasizing interactions among the Earth systems of land, water, air, and life.
Energy Literacy Principles
is an interdisciplinary approach to teaching and learning about energy. The framework identifies seven Essential Principles and a set of Fundamental Concepts to support each principle.
GeneEd
A safe and useful resource for students and teachers in grades 9 – 12 to learn genetics. The site allows the user to explore topics such as Cell Biology, DNA, Genes, Chromosomes, Heredity/Inheritance Patterns, and other top Issues in Genetics.
Green 360 Careers
Cultivating change-making solutions to environmental challenges, Green 360 connects high school and college age students with tools, information, and people they need to make informed choices and create pathways to green careers.
How to Smile
is a collection of the best educational materials on the web, creating learning activities, tools, and services vetted by a group of science museum educators dedicated to bringing science, technology, engineering, and math (STEM) out of the academic cloister and into the wider world.
Mission 31
Introduce your students to the wonders of the deep ocean as well as the challenges of living under the sea for 31 days. Learning Activities, Videos & Live Web Cams for K-12 students.
National Center for Atmospheric Research (NCAR)
Plans, organizes, and conducts atmospheric and related research programs in collaboration with universities.
National Center for Education Statistics (NCES) Create a Graph
online resource to create different types of graphs.
SOS Explorer - A unique earth data visualization tool used to develop science literacy, problem solving, trusted information gathering, and reasoning from data.
NOAA View Global Data Exploration Tool - Over 100 environmental variables are available using data from NOAA's vast archives of satellites, climate models, and other observation devices.
Data in the Classroom - Five curriculum modules that demonstrate techniques for using real data in the classroom.
Ideas, activities and lessons – Hundreds of digital teaching resources ranging from pdf educator guides to full blown lessons plans.
Amazing videos – One of the largest video collections on YouTube, the National Geographic channel is a go to source for high quality, HD video on nearly every topic under the sun. Videos vary from short extracts through to full length documentaries.
Online games and apps – Interactive resources you can use with your students. There are games challenging science and engineering, learning about animals through to vocabulary and family fun.
National Geographic Teaching Resources
PDF and print resources
National Geographic Ideas
Ideas for using resources in class
National Geographic PD
Programs for K-12 Teaching and Learning
Collections
Packaged resources for exploring topics
National Renewable Energy Lab (NREL)
The U.S. Department of Energy's primary national laboratory for renewable energy and energy efficiency research and development.
Navy STEM
Discovery Education and the Navy present a series of interactive lesson plans specifically designed for 9-12 graders to explore new ideas and new worlds related to science, technology, engineering and math (STEM)
NBC Learn
For more than 80 years, NBC News has been documenting the people, places, and events that shape our world. NBC Learn, is dedicated to making these historic stories, images and primary source documents available on-demand to teachers, students, and parents.
Need Project
A collection of Lesson plans, presentation resources, curriculum correlations, evaluation tools and information about professional development opportunities promoting an energy conscious and educated society.
National Ecological Observatory Network (NEON)
A continental-scale observatory that measures the causes and effects of climate change, land use change and invasive species on U.S. ecosystems. We provide freely available data, educational resources and scientific infrastructure for research.
National Oceanic and Atmospheric Administration (NOAA)
A federal agency focused on the condition of the oceans and the atmosphere.
National Science Digital Library
High quality online educational resources for teaching and learning, with an emphasis on the sciences, technology, engineering, and mathematics (STEM) disciplines.
Ocean literacy Principles
Ocean Literacy Framework was developed by many scientists and educators from the ocean sciences education community. Their efforts built on previous work to define ocean literacy, assess what the public knows about the ocean, and redress the lack of ocean-related content in state and national science education standards, instructional materials and assessments.
Science Notebooks
Can be used to help students develop, practice, and refine their science understanding, while also enhancing reading, writing, mathematics and communications.
Science Today
The California Academy of Sciences' channel for current stories on cutting-edge technologies, life, Earth, space and sustainability.
Scitable
A free science library and personal learning tool that currently concentrates on genetics and cell biology, which include the topics of evolution, gene expression, and the rich complexity of cellular processes shared by living organisms.
Soil Science Society of America (SSSA)
An international scientific society that fosters the transfer of knowledge and practices to sustain global soils. Resources include Teacher and Student materials on the science of soil. 
SPARK
Supporting weather and climate learning, SPARK provides online educational resources and professional development opportunities for teachers.
TeachEngineering
Is a searchable, web-based digital library collection populated with standards-based engineering curricula to help make applied science and math come alive through engineering design in K-12 settings.
The Physics Classroom
An online, free-to-use physics website developed primarily for high school physics students and teachers. The website features a variety of sections intended to support both teachers and students in the task of learning and teaching physics
University Corporation for Atmospheric Research (UCAR) Community Programs
A collection of eight programs which create, conduct, and coordinate projects that strengthen education and research in the atmospheric, oceanic and earth sciences.
UCAR – Learning Zone
How does a cloud form? What's a sunspot? Why is climate changing? At The UCAR Center for Science Education's Learning Zone, you can explore these questions and more. Great videos, interactives and visualizations.
Windows on Earth
An educational project that features photographs taken by astronauts on the International Space Station. Astronauts take hundreds of photos each day, for science research, education and public outreach.
---
Science and Engineering Practices
Colorado Experiential STEM Learning Network
Their mission is to collaborate with schools, policy makers, and businesses in order to create extraordinary STEM experiences for students and teachers. Thus, increasing science literacy and promoting science identity construction. The network is designed to create an online and offline community of practice such that interactions lead to an action, whether it be schools reaching out to businesses for hands-on activities, or community involvement in student projects and initiatives.
Destination Imagination
Encourages teams of learners to have fun, take risks, focus and frame challenges while incorporating STEM (science, technology, engineering, and mathematics), the arts and service learning. Participants learn patience, flexibility, persistence, ethics, respect for others and their ideas, and the collaborative problem-solving process. Teams may showcase their solutions at a tournament.
Next Generation Science Standards
Through a collaborative, state-led process managed by Achieve, new K–12 science standards have been developed that are rich in content and practice and arranged in a coherent manner across disciplines and grades to provide all students an internationally-benchmarked science education. The NGSS are based on the Framework for K–12 Science Education developed by the National Research Council.
Research + Practice Collaboratory
Research and Practice collaboratory engages researchers and practitioners around the country in an effort to address the long-standing gap between educational research and practice in STEM education.
StageLearn: Case Studies for Grades 7-12
A FREE rich media ecosystem founded in 2012 in New York City that uses animation videos to introduce the case method to students and expose them to experiences in STEM courses grades 7-12.
STEM Education Coalition
Works to support STEM programs for teachers and students at the U.S. Department of Education, the National Science Foundation, and other agencies that offer STEM-related programs.
STEMworks Database
The STEMworks! Change the Equation (CTEq) hosts a database of programs that deepen young people's learning in science, technology, engineering and mathematics (STEM). The database aims to be a critical resource for funders, program developers and STEM advocates alike.
The 10 best STEM Resources from NEA
The National Education Association (NEA) has compiled ten resources for curriculum and professional development.
---
Technology in Education
Bloom's Taxonomy and Technology Integration
A school site used to integrate higher- and lower-order thinking skills with technology.
Colorado Career and Technical Education (CTE)
Provides quality educational programs emphasizing core academic content, post-secondary and workforce readiness (PWR) competencies, technical skills, and seamless transition to further education or employment.
Colorado Technology Association
Dedicated to foster growth and opportunity for the technology industry. The Annenberg Foundation has a website for educator professional development with great workshops and courses for mathematics and science teachers. The courses are free but for a fee graduate credit is available from Colorado State University. Teaching Channel is a website designed to support the professional learning of teachers through videos of high quality teaching, discussion questions and opportunities for asynchronous conversations. Find ideas on integrating design skills using mathematics and science.
ComputerScienceOnline.org
An in-depth website for potential and current students considering a career with computers, software engineering, and more.