You are here
Music Education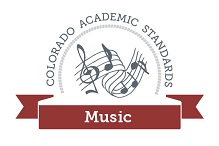 "Music expresses that which cannot be said and on which it is impossible to be silent." ~ Victor Hugo
"Music is the art of thinking with sounds." ~ Jules Combarieu
By implementing a structured and standards-based music education, students continue the generational conversation and become fluent in the language of music as a manner of artistic, intellectual, and cultural expression. The acts of performing, creating and responding to music provide a means for development and growth in the ability to express the otherwise inexpressible and to facilitate growth in many areas of academic development. (Click here to read the full music purpose statement from the Colorado Music Standards.)
Technology, Instruments, Guest Experiences, and Resources (TIGER) Music Grants NOW AVAILABLE!
The Technology, Instruments, Guest Experiences, and Resources (TIGER) Music Grant is made possible through a donation from FACE Vocal Band. This opportunity will provide small grants to applicants to impact classroom/school music programs. Knowing that it is often very difficult for music programs to buy sheet music, risers, and the basics for music instruction, small grants will be awarded to offset these costs.  APPLICATION CLOSES NOVEMBER 22, 2019 AT 11:59 pm MST.
Full script of video available.
Eligible Applicants
Local Education Agencies (LEAs) and non-public schools are eligible to apply for this opportunity. This includes:
A School District (on behalf of individual schools and charter schools);
A Board of Cooperative Services (BOCES) (on behalf of individual schools and charter schools);
A Charter School authorized by the Charter School Institute (CSI); or
Non-public schools.
Available Funds
The TIGER Music Grant is made possible through gifts, grants, and donations from FACE Vocal Band. Approximately $20,000 will be available for the 2019-2020 school year. Applicants may request grant funding in amounts of up to $250, $500, or $1000, per school. Note: A maximum of $2,000 will be awarded to districts applying for multiple schools. For districts applying for a single school, a maximum of $1,000 will be awarded. CDE anticipates awarding approximately 20-35 grants. Grant funds are intended for items and services that directly benefit students and the community. Successful applicants should demonstrate that these outcomes will be prioritized.
Please note: Applications will not be accepted from individual schools within a school district. Applications must be submitted through the school district. For charter schools, the authorizer or CSI will be the fiscal agent, if funded.
Allowable Uses of Funds
The intent of this award is to provide sustainable expenditures for Colorado music students. Funds may be used to help offset costs for music instruction in classrooms, including, but not limited to:
Risers, music stands;
Materials (e.g., folders, pencils, staff paper);
Music (including printed music or recordings);
Technology (i.e., recording/hardware/software equipment);
Accompanists;
Competition entry fees;
Music experiences (e.g., guest artists, field trips);
Classroom instruments (e.g., classroom recorders, drums, xylophones, mallets, band instruments, string instruments, pianos/keyboards, guitars, or other small percussion); and
Classroom resources (e.g., sight-reading books, notation books).
Application Materials
Educator Effectiveness Practical Ideas Guide for Music
Throughout the development, pilot testing and validation study of the Colorado State Model Evaluation System, groups of teachers and their evaluators with unique roles and responsibilities expressed concerns that the teacher materials didn't provide adequate guidance. They requested additional guidance regarding evidence/artifacts that may be used by such specialized teachers. In addition, they asked about specific practices to "look-for" to guide their classroom observations and help ensure that all licensed teachers receive fair, valid and reliable evaluations.
In response, CDE initiated the development of a set of guides written by practitioners for practitioners. They are intended to provide informal advice to teachers and their evaluators to help them understand the evaluation process within their specific context. 
PLEASE NOTE: The purpose of these documents is to highlight possible approaches for districts and BOCES to consider when constructing their approach to evaluating educators. CDE will be collecting on-going feedback to improve this guidance. To submit your feedback, email Educator_Effectiveness@cde.state.co.us.
---
State Partners for Music Education
---
National Arts Organizations for Music Education
For additional assistance please contact Carla Aguilar.