* * Scheduled System Maintenance: Tuesday, August 9 starting at 5pm and overnight through 7am* *
All single sign on applications including Pipeline, RANDA, LACES, UIP, ConsApp, ESSER, READ Budget and EASI will be unavailable.
You are here
Arts Education eUpdates
The eUpdates are intended to be a bi-monthly announcement regarding arts education initiatives and opportunities. Information about the latest CDE initiatives, projects, and events around arts education are listed. Additional state and national events and opportunities including professional development or grant opportunities are listed in each of these bulletins for quick reference. These eUpdates are your "one-stop" gateway to time sensitive information. Use the links below to view the latest eUpdate, access archived editions, and sign-up to have the arts education eUpdates sent directly to your inbox each month they are available.
The CDE Arts Education e-Updates are sent five times during the school year: August/September, October/November, December/Januiary, February/March and April/May. Please send information to Judi Hofmeister (email at bottom of page) by the 10th of each month to be included in an edition.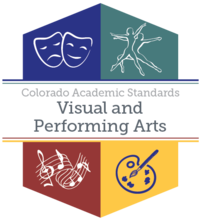 ---
eUpdates
---
For further assistance, please contact: