You are here
Individual Career and Academic Plan (ICAP)
Join us for the Launch of the PWR Playbook on October 13!
Celebrate ICAP's 10th anniversary and the launch of the PWR Playbook, a How-To-Guide designed by and for ICAP practitioners. Join students, school and district leaders, teachers, counselors, and other staff for a mini-celebration of the 10th anniversary of ICAP, and take a peek into the Playbook:
       PWR Playbook Launch
       October 13, 2020
       10:00 a.m. or 2:00 p.m.  
Please register for the 10:00 a.m. session here,
Please register for the 2:00 p.m. session here.                                                                        
 Please contact Robin Russel for more information.
About ICAP
ICAP is a multi-year process that intentionally guides students and families in the exploration of career, academic and postsecondary opportunities. With the support of adults, students develop the awareness, knowledge, attitudes, and skills to create their own meaningful and powerful pathways to Postsecondary and Workforce Readiness (PWR).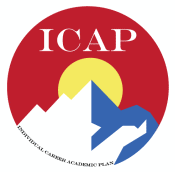 ICAP in the Time of COVID
Check out this list of timely webinars, trainings, and resources for ICAP,




including lesson plans, adult and teen wellness, mental health,and laughs.


Information is updated weekly!
News
It's the 10th anniversary of ICAP!
Join us for Tenth Birthday Tuesdays including informational interviews, storytelling, and district showcases

Complete the bi-annual ICAP Survey to provide feedback about your ICAP practice, and to tell us what you'd like to see for the ICAP birthday celebrations

Apply for the 10th anniversary edition of the ICAP Awards. Winners will be featured in the Showcases that are part of Tenth Birthday Tuesdays. Access the nomination form here.
Announcing the release of the PWR Playbook - coming October 13!
Access the first edition of this How-To-Guide, designed by and for practitioners

Provide input into the development of ICAP and PWR Strategies and share your stories and practices.
Join us for PWR Symposiums, regional training for ICAP and Graduation Guidelines.
Katrina Ruggles with a student
"ICAP has been transformative for our school district. We have moved from believing that we need to create opportunities for students to engage in post-secondary education to an expectation that ALL students in our district will graduate with a post-secondary career plan. We have engaged all staff in our building in this process, creating a culture where students know they have resources and support to reach personal career goals. ICAP is the right thing to do for our students, and we have embraced it as a way to demonstrate the relevance for our students of what we teach every day to future academic and career goals."

Katrina Ruggles, School Counselor from Center High School in the San Luis Valley
Quick Links
Meaningful Career Conversations 
Contact
Robin Russel 
Graduation Guidelines Manager 
Russel_R@cde.state.co.us
303-866-2908