Administrative Review (AR)
If these printable documents are needed in an alternate format, please contact Kerri Link.  
---
Administrative Review Trainings

Regional Trainings
Online Trainings​​​
---
AR Preparation Resources
If you need another version of a document, please contact Kerri Link.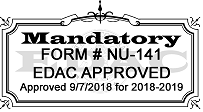 Meal Access and Reimbursement, Tips and Resources:
---
Afterschool Care Snack
Fresh Fruit and Vegetable
Special Milk
Seamless Summer Option
For additional information, e-mail: Kerri Link.