You are here
Science Academic Standards
Science is facts; just as houses are made of stone, so is science made of facts; but a pile of stones is not a house, and a collection of facts is not necessarily science." --Jules Henri Poincaré (1854-1912) French mathematician.
High expectations in education are essential for the U.S. to continue as a world leader in the 21st century. In order to be successful in postsecondary education, the workforce, and in life, students need a rigorous, age-appropriate set of standards that include finding and gathering information, critical thinking, and reasoning skills to evaluate information, and use information in social and cultural contexts. Students must learn to comprehend and process information, analyze and draw conclusions, and apply the results to everyday life. (Read more about Colorado's Science Standards.)
---
2009 Science Standards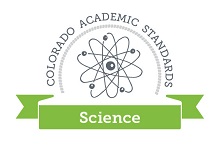 Understanding the 2009 Colorado Academic Standards in Science
2009 Curriculum Design Tools
---
2020 Science Standards
---
For website assistance in Science, please contact Joanna Bruno.