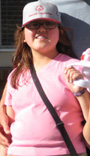 Consultant/Specialist Contacts
Definition: A child with deaf-blindness has concomitant hearing and visual impairments, the combination of which causes such severe communication and other developmental and educational needs that the child cannot be accommodated in special education programs solely for children with deafness or children with blindness.
Quick Links:
2017 Summer Institute on Deaf-Blindness
Making It Routine: Connecting Communication, Schedules and Literacy
Date: June 20-21, 2017, 8:30am - 4:30 pm
Location:  Lowry Conference Center, 1061 Akron Way, Denver, CO
The purpose of this institute is to build capacity of Colorado early intervention and school personnel to support the intervention and instructional needs of learners with deafblindness.  This annual event is a foundational component of the Colorado Services for Children and Youth with Combined Vision and Loss Project. See flyer for more information.
Related Links
---
The contents of this website were developed under a grant from the United States Department of Education (US DOE), #H326C080044. However, those contents do not necessarily represent the policy of the US DOE and you should not assume endorsement by the Federal Government. -- Project Officer, Jo Ann McCann
---