CDE will be closed on Monday, Jan. 20 for the Martin Luther King, Jr. holiday.
You are here
Social Studies Academic Standards
"Teaching social studies powerfully and authentically begins with a deep knowledge and understanding of the subject and its unique goals. Social studies programs prepare students to identify, understand, and work to solve the challenges facing our diverse nation in an increasingly interdependent world. Education for citizenship should help students acquire and learn to use the skills, knowledge, and attitudes that will prepare them to be competent and responsible citizens throughout their lives. Competent and responsible citizens are informed and thoughtful, participate in their communities, are involved politically, and exhibit moral and civic virtues."
A Vision of Powerful Teaching and Learning in the Social Studies: Building Social Understanding and Civic Efficacy (NCSS, 2008)
Preparing students for the 21st century cannot be accomplished without a strong and sustaining emphasis on the social studies. The social studies provide cornerstone skills that are the key to opening doors for a more diverse, competitive workforce and responsible citizenry. (Read more about Colorado's Social Studies Standards.)
---
2009/2010 Social Studies Standards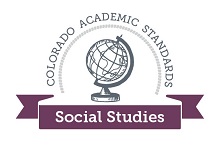 Understanding the Colorado Academic Standards in Social Studies
Curriculum Design Tools
* Corrections were made to the electronically posted Social Studies standards in 6-8th grades. These changes were made to ensure consistency across versions (hard copy, electronic with EEOs, electronic without EEOs, and vertical progressions), as well as correct misaligned Prepared Graduate Competencies and Grade Level Expectations. The changes do not add or delete any content. The update will only impact school districts with standards-based reporting systems that use the CAS coding system. Click here to see the tracked changes. We apologize for any inconvenience this may cause.
---
2020 Social Studies Standards
---
For assistance with social studies, contact Stephanie Hartman.