You are here
Digital Portfolios
Digital Portfolios
Digital Portfolios are a way for students to take ownership of their learning and mastery of a skill and/or subject, as well as reflect on where their strengths lie and how those strengths could translate to the Postsecondary world. They are fully editable and students may share their work safely with educators, parents, and potential employers.
ANYONE can use Portfolios-- young, old, and each person in between! Because they are fully customizable, Districts and Schools can include what they need and leave out what they don't. Possibilities with portfolios are endless.
Students develop their own digital portfolio through this Google Site which includes resources for students and teachers, lesson plans, professional development. and links to many resources.
OTHER ICAP PRACTICES related to Digital Portfolios in D49: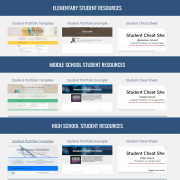 Type of Practice:
Assessments & Inventories: College, Career & Military
Curriculum and Scope and Sequence
District / School ICAP Process
Interest and Aptitude Profiles
Platform
Websites
Category:
Individual Development
Career Development
PWRful Demonstration of Learning
Capstone/Performance Assessment
Career and Technical Education (CTE)
Communications / Messaging / Marketing
Equity, Inclusion, Diversity and Access
Personal Financial Literacy
Work-Based Learning (WBL)
Type of Organization:
District and/or School
Virtual Learning Environment
District Size:
Urban
Region:
Pikes Peak
Developmental Level:
Elementary School
Middle School
High School
District:
District 49
School:
Urban High School