You are here
10th Anniversary PWR Showcase - February 9, 2021
10th Anniversary PWR Showcase - February 9, 2021
PWR Showcases feature PWR Facilitators and ICAP Awardees statewide. They highlight student and staff stories, show off their processes, and celebrate successes. 
On February 9, the PWR Showcase theme was ICAP and CTE
Counselors, CTE teachers, and students from Mesa County Valley District 51 in Grand Junction talked about their PoWeRful ICAP, CTE, and experiential learning practices.  Participants joined in conversations about promising practices with an informal panel of teachers, counselors and leaders from Calhan School District, Poudre High School, and Colorado's Finest in Englewood.  
Next Showcases:
March 9:  ICAP is Integrated!
April 13:  ICAP with Parents, Families
May 11:  Celebrating ICAP and Postsecondary and Workforce Readiness (PWR)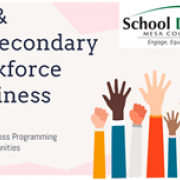 Type of Practice:
Curriculum and Scope and Sequence
District / School ICAP Process
Lesson Plans
Professional Development and Training
Testimonials / Anecdotes from Educators
Testimonials / Anecdotes from Students and Families
Videos
Websites
Category:
Individual Development
Career Development
Academic Development
PWRful Demonstration of Learning
Capstone/Performance Assessment
Career and Technical Education (CTE)
Meaningful Career Conversations
Work-Based Learning (WBL)
Type of Organization:
District and/or School
District Size:
Rural
Region:
West Central
Developmental Level:
High School
District:
Mesa County Valley 51