You are here
Career Conversation Training
The Career Conversation Training Project, designed and facilitated in 2019-2020, has moved to the online Moodle platform.  All of the resources, activities and guidance initiated by the Colorado Leadership Council and developed by the Colorado Education Initiative and CDE are contained in a Moodle Course.
The training is self-paced, and it is free and open to the public.
Access Login & Instructions: https://www.cde.state.co.us/cdeadult/professionallearningmoodletraining  
Enter the key, "CCC" to register for the course
Create a User Name and Password
Complete the Enrollment Form to enroll in the course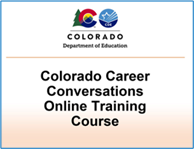 For Moodle Login instructions, visit: https://www.cde.state.co.us/cdeadult/professionallearningmoodletraining  
The training could also be adjusted to accommodate individual organization, school, or district needs.
Administrators can monitor the progress of participants with a small change to the course access.  Contact Gaye Horne for instructions.
Career Conversation Facilitators are available on a limited basis to facilitate 2- or 4-hour trainings. Contact Robin Russel to organize a facilitated session.
      Questions? Contact Robin Russel, Office of Postsecondary Readiness, Gaye Horne, Adult Education Initiatives
What is Career Conversation Training?
The purpose of the Colorado Career Conversations Training Project is to provide free, high-quality, professional development to individuals throughout the state who are positioned to have career conversations with students, job seekers, clients, or others who may need support navigating career decisions.
The project is an initiative of the Education Leadership Council, presented by the Colorado Education Initiative on behalf of the Colorado Department of Education. The training and framework were also built in partnership with the Colorado Workforce Development Council, Colorado Department of Higher Education, and Colorado Department of Labor and Employment.
What is a Career Conversation?
A career conversation is the interactive and dynamic process of supporting individuals in pursuing a career path, pursuing the education and training necessary to achieve a career path.
What is a Career Conversation Advisor?
A career conversation advisor is a person trained in and prepared to engage advisees in a Colorado Career Conversation, and help them learn the skills to identify, select, and achieve career goals now and in the future.
Who Might Advisors Be? 
Counselor
Educator (teachers, professors, administrators, etc.)
Coach; Club Sponsor; Band Director…
Other service provider (paraprofessionals, other personnel)
Parent/guardian
Colleague; Peer; Near-Peer
Other, other, other…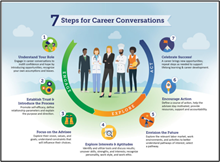 Resources
7 Steps for Career Conversations
​Understand your role
Establish trust and Introduce the process
Focus on the advisee
Explore interests and aptitudes
Envision the future
Encourage action
Celebrate success