You are here
Farming - Oral Histories Resource Set
Farming - Oral Histories Resource Set
The resource set includes additional sources to accompany the My History at School Primary Source Set and Lesson Ideas to help extend lessons and further student understanding.  Primary Source Analysis Worksheets are available on the Elementary Primary Source Sets main page.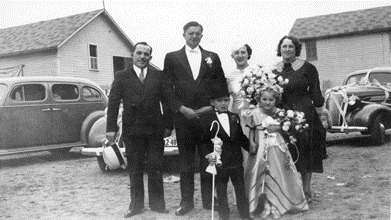 The interview focuses mostly on the Croce family's livelihood in farming in Welby, CO.  Catherine Croce talks about her family's emigration story, playing baseball, working as a candy packer and inspector for 27 years, her family farm, and her marriage to Bill Amerigo Croce in 1937. Courtesy of History Colorado.
---
Interview conducted on January 25, 2006 with Richard L. "Dick" DeRose at his home. The interview begins with a discussion of Richard's grandparents from both sides of his family, and how they migrated to the United States. His father's side came through Ellis Island from Potenza and Naples, and worked extensively with "truck farming" in the 1880s in Welby, Colorado. Courtesy of History Colorado.