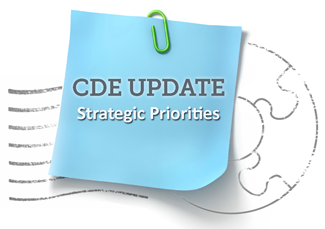 Need Assistance?
Please get in touch with your CDE field service manager.
John Condie, field services manager for the Northwest, West Central and Pikes Peak regions, 303-866-6630
Jhon Penn, executive director of field services and field services manager for the Northeast, North Central and Metro regions, 303-866-6632
Tina Goar, field services manager for the Southeast and Southwest regions and the Rural Council, 303-866-6608
About the CDE Update
Colorado is implementing significant education improvements aimed at ensuring all students graduate college- and career-ready. While much research and discussion has gone into the policy development, we're now putting those policies into action. Here's a brief snapshot of our strategic priorities including implementation milestones, supports now available and a look of what to expect ahead.