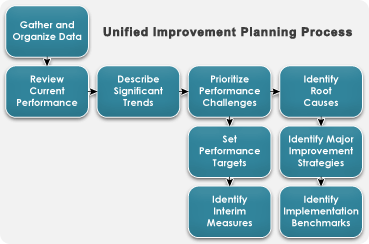 Colorado schools and districts can improve student learning and system effectiveness by engaging in a cycle of continuous improvement to manage their performance. To support this purpose, the Education Accountability Act of 2009 requires each Colorado district and school to create an annual improvement plan. The Colorado Department of Education has developed a unified improvement planning template and processes to support schools and districts in their performance management efforts. The UIP template has been designed to meet state, federal, and program accountability requirements.
Current News:
Announcing the launch of the 2015 TELL Colorado Survey, from February 11 – March 16, 2015 (deadline extended by a week). All school-based, licensed educators may participate in this anonymous, online survey to assess teaching and learning conditions at their schools. The state's education leaders want to ensure that every Colorado educator has the supportive environment necessary to help students achieve at the highest levels! Find out more by visiting www.tellcolorado.org. 
2014-15 UIP Templates and Addenda Forms are posted on the Templates page.
New Fact Sheets and guidance are available on the General Resources page, including information about the upcoming online UIP tool, the Rural Flex Bill (HB 14-1204) and Guidance on the UIP Process during the State Assessment Transition.
The most recently submitted Unified Improvement Plans are posted for public viewing on SchoolView.org.
District and School Performance Framework information can be found on the District and School Performance Frameworks page within the Accountability, Performance and Support site. 
The UIP process map in the upper right-hand corner contains interactive links to resources available to support each step of the unified improvement planning process. By clicking on a step in the map, you will be directed to the support page for that step in the process. You may also use the links on the left-hand navigation bar to access these resources. Click on either "Unified Improvement Planning" at the top at the process map, or "Unified Improvement Planning" on the left-hand navigation to return to the UIP homepage.