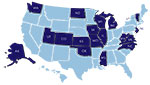 CoAlt: DLM
The Dynamic Learning Maps (DLM) Alternate Assessment program is designed to measure what students with significant cognitive disabilities know and can do. 
Manuals and additional information for this assessment can be found on Colorado's DLM page at http://dynamiclearningmaps.org/colorado 
---
CoAlt: DLM Spring Data Clean-Up
The lock-down date for data in the KITE system is March 10, 2016.  This webinar provides information on what needs to be completed prior to this date. http://connect.enetcolorado.org/p8gueo86yjv/ 
Test Invalidation Codes (DLM Special Circumstance Codes)
---
CoAlt Administration Training
CoAlt: Administration training Information can be found on the CDE Assessment Unit Trainings page. 
---
CoAlt: DLM Administration Important Dates
---
CoAlt Office Hours
The CDE Assessment Unit will host scheduled CoAlt office hours for DACs from 3:00 - 4:00 pm on selected Mondays.  Some of these will have a short "training" related to upcoming deadlines followed by an open forum for district discussions and questions.  
Office hours will be held via adobe connect, Connect to CoAlt Office Hours, 
     An overview of the CoAlt assessments
September 14, 2015 (1-888-228-9561)
October 12, 2015 (1-866-783-5479)
     Instructionally Embedded Assessments
     Testlet Information Pages (TIPs)
November 30, 2015
---
CoAlt: DLM  Participation 
All students who meet the participation guidelines for the CoAlt should be given the alternate in all statewide assessments.  These assessments include academic assessments in the content areas of English language arts, mathematics, science and social studies, the 11th Grade Alternate to the college entrance exam, and the Alternate ACCESS for ELLs.  
A student's Individual Education Program (IEP) team, following the guidance found in the Alternate Standards and Assessment Participation Guidelines Worksheet, and companion document, will make the decision if the student will participate in the CoAlt or CMAS assessments. Only students with a significant cognitive disability who are receiving instruction based on the Extended Evidence Outcomes (EEO) of the Colorado Academic Standards (CAS) should be considered for participation on the CoAlt: DLM assessments.
---
CoAlt: DLM  for English Language Arts and Mathematics
The DLM year end assessment model will be used for English language arts (ELA) and mathematics.  This model was created by the DLM consortium.  DLM's comprehensive assessment system is designed to support student learning and to validly measure what students with the most significant cognitive disabilities know and can do. Colorado students who are eligible for the CoAlt: DLM assessments will be assessed in ELA and math using an online, computer-based system.  Multiple accessibility features and supports are available to assist students in accessing the computer-based test. Additional supports including teacher-administered testlets are available to students who are unable to use the computer for the assessment.
The DLM system also provides instructionally embedded assessments throughout three windows in the 2015 - 16 school year.  Districts may decide if they wish to open these additional windows to their teachers and students.  Only the scores from the end-of-year window will be used for accountability.
---
CoAlt: DLM Blueprints
English language arts and mathematics blueprints provide educators with specific guidance for individualized instruction and assessment.  The blueprints inform the structure and list the content area standards available for assessment.  
DLM uses nodes that represent academic skills at different levels of cognitive complexity to create assessments that are accessible to a broad range of students. Additional information on specific nodes and their linkage level skills can be found on the following pages.
---
Requested Resources
First contact survey questions (DLM Appendix)
---
CoAlt: DLM Required Training for Test Administration
The Dynamic Learning Maps consortium is in the process of revamping training for the 2015 - 2016 school year.  
It is anticipated that required training modules for test administrators new to the CoAlt: DLM will consist of four modules that will take approximately 3.5 hours to complete.  Test administrators who gave the CoAlt: DLM assessments in the spring of 2015, may be eligible to take only a review module which is anticipated to take one hour to complete.  Test administrators who take the review module and are unable to pass the associated quiz may be required to complete the "new test administrator" training modules.
The model for training CoAlt: DLM test administrators is up to the district.  DLM provides materials for facilitated trainings or self-paced trainings.  All test administrators must pass the associated quizzes in Moodle, regardless of training model, to be given access to students and testlets in the KITE system.  Once training is complete, it may take up to 5 business days for participants to have access to students in KITE; therefore, districts are encouraged to plan for test administrator training to be complete by February 10, 2016.
CDE will model face-to-face facilitated training at selected locations for district trainers (up to 2 participants per district) in the fall of 2015.  Further information is anticipated to be sent to DACs in August, 2015.
All staff involved in the CoAlt: DLM assessment must sign a security agreement.  Staff with a KITE: Educator Portal account will receive and sign their form online when they create their account.  It must be reviewed and electronically signed.  A sample confidentiality form has been created that districts may use for other staff who may be in the room while the DLM assessment is administered. 
---
DLM Webinars for District-Level Staff
Recorded webinars from the Spring 2015 administration for District Assessment Coordinators (DAC), Data Stewards (Data Respondents) and Technology Liaisons (DTC) can be found at http://dynamiclearningmaps.org/content/district-staff-training-resources-ye. 
---
DLM Test Administrator Supports
Dynamic Learning Maps has a webpage designed specifically to provide support for educators who will be delivering the CoAlt: DLM assessment.  This page can be found at http://dynamiclearningmaps.org/content/erp_ye.    
---