Verification is confirmation of eligibility for free and reduced price meals under the National School Lunch Program and the School Breakfast Program.
---
Verification Training
In-person Training 

Free and Reduced Price and Verification In-person Training

Any nutrition or district staff (no matter the experience level and/or years in position) involved in making eligibility determinations, involved in the verification process, serves as the back-up and/or hearing official for the free and reduced meal processes. 
Five (5) hours of annual training hours.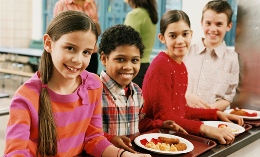 ---
Webinar! Verification Collection Report
​Subject: Verification Collection Report (VCR), FNS-742
Who: School Food Authorities (SFAs) that operate the School Breakfast Program (SBP) and/or the National School Lunch Program (NSLP) must complete this report. This includes SFAs that operate Community Eligibility Provision (CEP), Provision 2, or are a Residential Child Care Institution (RCCIs).
When: Tuesday, November 13th, 2:00 PM – 3:00 PM MST
Summary: Please join us for an overview on how to properly complete the VCR.

Learn what is considered a valid verification response versus a non-response
Walk through each of the 5 sections of the VCR and how to accurately report your data
Discover how to correctly report SNAP, TANF and Migrant only students from your direct certification match lists

To join the webinar, please select the link on November 13th at 2:00PM MST: https://cdeschoolnutrition.adobeconnect.com/r9difuyviub/ No pre-registration is necessary, however space is limited. If several staff in the same district wish to attend, please attend the webinar together. This webinar will be recorded and posted for viewing on the Verification Webpage.
---
Verification Resources
Letter Templates
Sample Size Resources
Verification Collection Report (VCR) Resources
---
USDA Memos and Resources
USDA Food and Nutrition Services (FNS) webpage

Translations for applications intended to be used directly by families
Translations for applications and verification form prototypes for state agency consideration
USDA Web-based Prototype Application for Free and Reduced Price School Meals
---
For additional information,  please email Free&ReducedPriceSchoolMeals@cde.state.co.us. 
---