CDE will be closed on Monday, Jan. 18 for the Martin Luther King, Jr. holiday.
You are here
Commissioner's Teacher Cabinet
About the Commissioner's Teacher Cabinet
The Commissioner's Teacher Cabinet is an opportunity for Colorado teachers to share their hands-on classroom knowledge. This advisory group is made up of 20 practicing teachers from around the state representing small, medium, large, rural, suburban and urban school systems.
Role of Teacher Cabinet Members:
Serve as a sounding board for the implementation of state education policy.
Brainstorm solutions for some of the challenges facing today's educators, such as raising achievement among all students, supporting low-performing schools and increasing the number of individuals joining the teaching profession.
Selected educators for the second Teacher Cabinet cohort will serve two years on the cabinet beginning in October 2019. The Colorado Teacher of the Year has an automatic spot on the cabinet.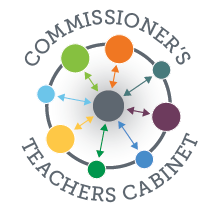 ---
2020 Commissioner's Teacher Cabinet Members
New Teacher Cabinet Members:
Michael Bautista - Career and technical education teacher, Boulder Technical Education Center, Boulder Valley School District
Kenneth Benson - Social studies teacher, Niwot High School, St. Vrain Valley School District
Linda Donaldson - Mathematics teacher, Skoglund Middle School, Center Consolidated School District 26JT
Samantha DuVall - Mathematics teacher, Union Colony Schools, Greeley-Evans School District 6
Bonnie Grover - English language arts teacher, Avery Parsons Elementary School, Buena Vista School District
Scott Hicks - Social studies teacher, East Grand Middle School, East Grand School District
Emily Muellenberg - Social studies teacher, Highlands Ranch High School, Douglas Country School District
Gerardo Muñoz (2021 Colorado Teacher of the Year) - Social studies teacher, Denver Center for International Studies, Denver Public Schools
Carina Raetz - English as a second language (ESL) teacher, Academy International Elementary School, Academy School District 20
Julie Sale - Science, mathematics and social studies teacher, Hope Learning Academy, Douglas County School District
Lacey Taschdjian - Mathematics teacher, Adams City Middle School, Adams County School District 14
Hilary Wimmer (2020 Colorado Teacher of the Year) - Business, Mountain Range High School, Adams 12 School District
Continuing Teacher Cabinet Members:
Justin Bankey - Dean of Students and Instructional Coach, Highland Elementary, Garfield School District RE-2
Meg Cypress (2019 Colorado Teacher of the Year) - Elementary teacher, Bradley International School, Denver Public Schools
Andrew Guinn - Mathematics, science and computer science teacher, San Juan Mountain School, Archuleta School District 50JT
Dan Haught - Special education and Speech-language pathologist, Mesa Elementary, Westminster Public Schools
Terry Highfield - Elementary teacher, S. Christa McAuliffe STEM Academy, Greeley-Evans School District 6
Valerie Lovato - Elementary teacher, Eagleton Elementary, Denver Public Schools
Jocelyn Nguyen-Reed - Information technology pathways lead, Cherry Creek Innovation Campus, Cherry Creek School District 5
Jamie Odum - Assistant Principal, Peakview School, Huerfano School District RE-1
Nathan Pearsall - Social studies teacher, Vista Ridge High School, Falcon School District 49
Kevin Vaughn - Elementary teacher, Dolores Elementary, Dolores School District RE-4A
---
Additional Resources
Downloadable Commissioner's Teacher Cabinet Member Lists
News Releases