The State Model Evaluation System was piloted in 27 school districts of varying size and location in the 2011-16 school years. Educator feedback from these pilot districts informed improvements to the model system.
SSP Pilot Reports from the 2013-14 School Year (released Feb. 2015)
These reports provide an initial look at the use of the Colorado State Model Evaluation System by SSPs, and caution should be exercised when interpreting the results.
Pilot Perspectives: Benefits of New Evaluations (January 2013 Panel Discussion)
Listen to highlights from a panel discussion with S.B. 10-191 pilot districts speaking about the benefits they are experiencing with the new evaluation requirements.

Colorado Pilot, Partner and Integration Districts: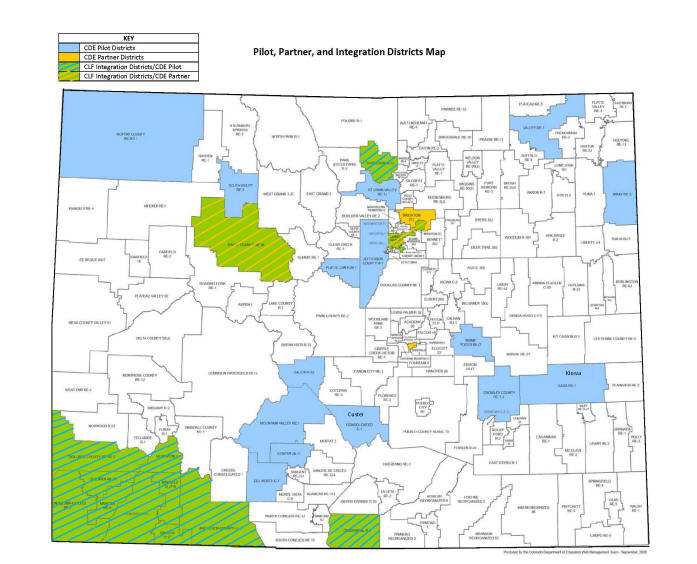 What is a Pilot District?
Pilot Districts were selected as part of CDE's work to implement Senate Bill 10-191. Districts are representative of the various sizes, student demographics and geographic differences across Colorado. These Pilot Districts are using the State Model Evaluation Systems for both principals and teachers during the 2011-13 school years. They are providing valuable feedback on the quality of the model system, identifying challenges and strengths of the system, and suggesting refinements to the implementation process developed by CDE.
What is a Partner District?
Several districts that have already developed performance evaluation systems reflecting key elements of Senate Bill 10-191 were selected to participate in the pilot process as Partner Districts. These districts are providing valuable information on the process for aligning existing educator evaluation systems to the rules developed by the State Board of Education, as well as providing an opportunity to enhance the State Model Evaluation System with elements from locally-developed systems.
What is an Integration District?
Integration Districts were selected as part of a voluntary effort by the Colorado Education Initiative to support CDE's work to implement Senate Bill 10-191 as well as the Colorado Academic Standards pursuant to Senate Bill 08-212 (Colorado Achievement Plan for Kids). Four school districts and one BOCES were selected to specific activities that implement, in an integrated manner, all of the following:
Colorado Academic Standards and aligned instructional materials to guide instruction
Professional development in formative practices to inform instruction
Regular performance evaluations that hold educators accountable for student growth and provide them feedback to improve instruction