You are here
Alternative Principal Preparation: Obtaining a Principal Authorization
Welcome! If you're reading this, then you are likely a district or individual interested in developing an individualized plan to support the preparation of a principal under a principal authorization.
On this page, you'll find a brief overview of the authorization's requirements for candidates and districts and a summary of this alternative pathway to principal licensure.
Principal Authorization Defined
The state authorizes school districts to design and implement alternative principal preparation plans to allow persons from outside the educational community to develop the skills and experiences necessary to successfully lead a public school and, ultimately, to qualify for licensure as principals (CRS 22-60.5-305.5). The school district may work with a governmental, non-profit or for-profit entity in designing and implementing the individualized alternative principal plan, including a number of organizations across Colorado. The individualized alternative principal plan shall be subject to approval by the Colorado State Board of Education.The qualifying candidate must be required to hold a principal license to fulfill the job duties. If a license is not required, the individual wishing to pursue principal preparation may do so through a traditional principal preparation program.
A principal authorization may be issued to a person who does not hold or may not qualify for an initial principal license, but who holds an earned bachelor's or higher degree from an accepted institution of higher education and who is completing an individual, district-based alternative principal plan that has been approved by the Colorado State Board of Education (CRS 22-60.5-111 (14)). The plan does not go into effect until the Colorado State Board of Education has approved it and the candidate has received a principal authorization from CDE.
A school district may employ a person who holds a principal authorization to perform the duties of a principal or assistant principal in a school only when the person who holds the authorization is under the supervision of a Colorado professional principal license-holder.
A principal authorization shall be valid for three years and may not be renewed.
It is valid only while the individual is completing the individualized plan and accruing three years of licensed experience required for an initial principal license, if the candidate does not already have that via licensed teaching or other experience in an elementary or secondary school.
Upon completion of the individualized plan, the candidate will need to apply for an initial principal license.
Requirements for a Principal Authorization
Before a candidate may apply for a principal authorization, the following three criteria must be met:
There is a demonstrated need for the principal or assistant principal position in the partnering Colorado school district or BOCES;
An employment agreement for the position exists; and
An individualized principal plan has been developed and vetted by CDE/Educator Development as meeting established indicators.
Once vetted, CDE will invite the individual to submit an application for a principal authorization. Once received, CDE will prepare the necessary documentation and submit the applicant's individualized plan for consideration by the state board at the next available meeting. (Please note that due to agenda submission deadlines, this may be a month out.)
Pathway to Alternative Principal Preparation
The flowchart below describes the basic steps to obtaining a principal authorization in Colorado.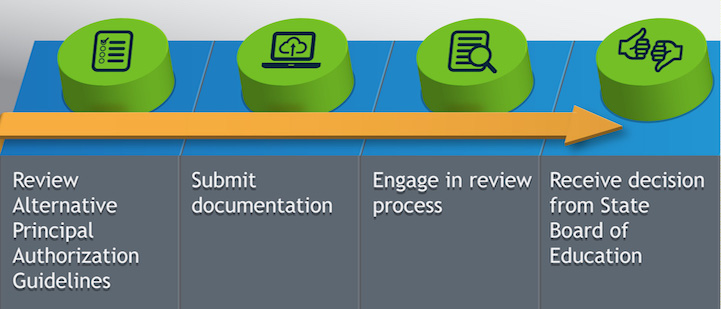 Approved Alternative Principal Preparation Programs -- Coming Spring 2022!