Members of the Colorado State Board of Education are charged by the Colorado Constitution with the general supervision of the public schools. They have numerous powers and duties specified in state law. Individuals are elected on a partisan basis to serve six-year terms without pay.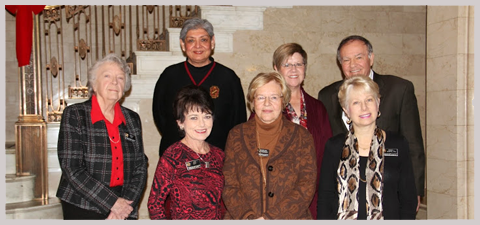 2015 State Board of Education Members
(Pictured from left to right)
Debora Scheffel (R)
6th Congressional District
Parker
Steve Durham (R)
5th Congressional District
Colorado Springs
Elliott Asp
(Not pictured)
Interim Commissioner of Education
Secretary to the Board of Education
Elizabeth (Bizy) Burdsall
(Not pictured)
Interim Director of State Board Relations
---
Background
In 1948, the Colorado State Constitution was amended to authorize an elected State Board of Education to provide general supervision of public schools, with powers and duties described throughout Title 22 of the the Colorado Revised Statutes. The first Colorado State Board of Education was elected in November 1950, and began its work in January 1951.
Today's State Board of Education is composed of seven elected officials representing Colorado's congressional districts. Board members serve without pay for six-year terms. Every other year, the State Board elects a chairman and vice-chairman from its own membership; the Commissioner of Education acts as non-voting secretary to the Board.
Announcements
An update on the Commissioner Search Process will be provided to the public at the next State Board meeting on August 12, 2015.
State Board seeks executive search firm for new Commissioner of Education
The state board of education uses an electronic agenda for all its regular meetings.
Listen Live! is only available during scheduled meeting dates and times.
Board Photos
Board Highlights
Making the Connections: School Finance Design and Student Achievement Panel Discussion and Media Interview Videos - 3/19/2012
Watch Videos
2015 Meeting Dates
July 8-9 (There will not be a Regular State Board meeting held in July)
Sept. 9-10
Oct. 7-8
Nov. 11-12
Dec. 9-10
Former Meetings