You are here
Commissioner's Biography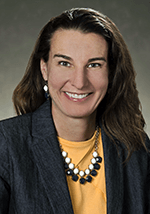 Katy Anthes, Ph.D.
Colorado Commissioner of Education
Named commissioner of education in December 2016, Dr. Katy Anthes is widely respected for her commitment to listen to diverse perspectives and develop solutions that are founded on productive middle ground. Keeping students' best interests as her top priority, she focuses on providing high quality expertise and support to districts and educators working to enhance student achievement.
Dr. Anthes has been with CDE since 2011, serving as interim commissioner, chief of staff, interim associate commissioner for achievement and strategy and executive director of educator effectiveness. As the executive director of educator effectiveness, she led CDE's efforts to support and retain highly effective educators in Colorado. In her previous position as a partner with the Third Mile Group, Anthes led and researched major education initiatives for state, district and national organizations on a variety of education issues and projects including; the Colorado School Leadership Academy Board, the Expanded Learning Opportunities Commission and as an evaluator for several district education programs across the state.
Anthes worked with numerous national education organizations at The Third Mile Group, such as the Council for Chief State School Officers, the National Governor's Association, The National Commission for Teaching and America's Future, American Institutes for Research, and many more. Prior to founding the Third Mile Group, she had seven years of research, policy work and leadership experience at the Education Commission of the States focusing on school and district leader effectiveness. Anthes holds a Ph.D. in public policy and a master's degree in public affairs from the University of Colorado Denver. She did her undergraduate work at the University of Oregon.
Anthes lives in Denver and is an avid runner and soccer enthusiast.
Upon being appointed Commissioner of Education, Dr. Katy Anthes became Colorado's first female commissioner in 65 years, preceded by the state's first appointed commissioner Nettie S. Freed in 1950-51.
---