You are here
State Model Evaluation System for Principals/Assistant Principals
To support districts in their implementation of Senate Bill 10-191, CDE created a State Model Evaluation System for principals and assistant principals. While not mandatory, this system provides an option that focuses on principals and assistant principals' professional growth and aligns with State Board of Education 
rules
.

The model system has been guided by recommendations of the State Council for Educator Effectiveness (SCEE), pilot districts and other Colorado educators.
You can navigate the content of this page here:
Principal Quality Standards
To support districts in their implementation of Senate Bill 10-191, CDE created a State Model Evaluation System for principals that aligns with State Board of Education rules. Under the model system, principals are evaluated on four Quality Standards (download the Principal Quality Standards overview):
Half of the evaluation will be based on the four professional practice Quality Standards: organizational leadership through strategic planning, inclusive leadership, instructional leadership, and professionalism. The Quality Standards can be measured using the state-developed rubric that identifies the practices necessary to achieve the standards.
The other half of a principal's evaluation will be based on Measures of Student Learning which measures the academic growth of the students in their school. Principals must have a team attribution student growth score and student growth scores that are aligned to their teachers.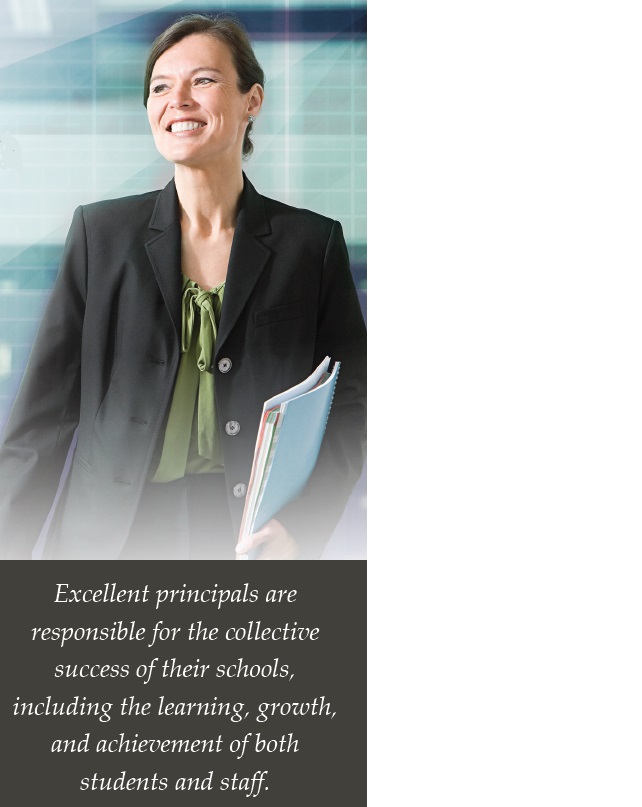 ---
Resources for Using the Revised Principal System
These resources are to aid districts/BOCES as they transition to the changes in the State Model Evaluation System for Principals:
---
Training Resources
The Colorado State Model Evaluation System Training Resources and Tools ensures schools, districts and BOCES have access to the latest information and resources to support staff training resources. All materials found on the website are completely customizable in order to reflect district/BOCES values and needs. 
Please contact educator_effectiveness@cde.state.co.us if an alternate version of a document is needed.