You are here
Transitions to Kindergarten Resources
Colorado Transition Resources
Transitions to Kindergarten: A Roadmap
Beginning in 2019, the CDHS Office of Early Childhood (OEC) partnered with the CDE Preschool through Third Grade Office (P-3 Office) to engage the National P-3 Center (NP-3C) to identify strategies and tools to support children, their families, and early care and education and K-12 professionals as children transition to kindergarten. The Transitions to Kindergarten: A Roadmap identifies eight strategies addressing state and local opportunities to improve cross-sector collaboration, with a focus on the policy levers that can be enacted to support transitions.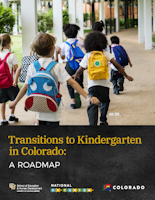 Transitions to Kindergarten in Colorado
The National P-3 Center in partnership with the Office of Early Childhood and the Preschool-Third Grade Office created a collection of role-based transition resources to provide a framework for more effective and culturally and linguistically responsive transitions from early childhood experiences into kindergarten.