You are here
Complete an Alternative Educator Preparation Program for Teachers or Principals
If you have always wanted to be a teacher or principal and have a bachelor's or higher degree (from a regionally accredited college or university), you may be ready to become an alternative educator candidate! Alternative educator candidates may include:
Recent undergraduates who have never enrolled in or did not complete a teacher or principal preparation program;
Early career changers, who have graduated from college, worked for a few years, and realize that they want to become educators;
Mid-career changers, who are looking for a pathway to make a difference in the lives of kids by becoming educators;
Community members who have college degrees and life experiences, and want to affect the lives of the children in their community;
Paraprofessionals who have completed their bachelor's degrees and are seeking a pathway to licensure;
Retired military members who would like to "serve again" by becoming educators;
Alternative educator candidates range in age from 22 to 82 and come from all walks of life. What they have in common: the drive to make a difference in the lives of kids by becoming educators.
Alternative Preparation Pathways
The flowcharts below depict the alternative pathways that teachers and principals can follow to become licensed educators in Colorado.
Alternative Teacher Preparation Pathway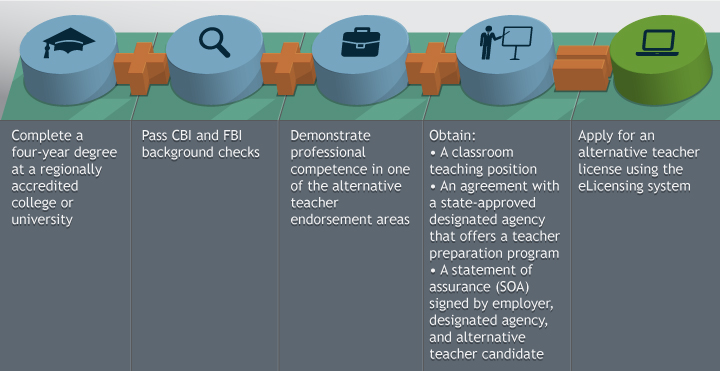 Alternative Principal Preparation Pathway