You are here
Special Milk Program (SMP)

The Special Milk Program (SMP) provides milk to children in schools who do not participate in other federal child nutrition meal service programs. Schools operating the NSLP or SBP may also participate to provide milk to children in half day pre-kindergarten and kindergarten programs where children do not have access to the school meal programs. The program reimburses schools for the milk they serve.
Special Milk Program Overview Brochure
---
How to Apply
Instructions
Download SMP Renewal Application Instructions
Schools
Schools interested in applying for SMP must submit their application during the annual renewal of applications online. The district will select SMP for the schools that will participate in the Special Milk Program.
Camps & Institutions
Camps and Institutions interested in applying for SMP must complete the Non-Pricing Agreement and Policy Statement and submit both to the CDE School Nutrition Unit.
Application Deadlines
The 2022-23 renewal application is due Friday, Sept. 30th.
The application approval process can take up to two weeks to complete, especially when participating in multiple child nutrition programs. You will not be able to submit a claim until your renewal application is approved.
---
How to Claim
Use the following guidance documents to submit your claim.
Claim Deadlines
Reimbursement claims are due 60 days after the end of each month.
---
Program Requirements
SMP Requirements Resources:
Public Release
School food authorities (SFAs) are required to annually provide a public release of the Special Milk Program Policy that is published at the district level.
CDE School Nutrition Unit publishes a state-wide public release to meet this requirement for Colorado SFAs.This state-wide public release includes all sites participating in the National School Lunch Program and/or the Special Milk Program. Colorado SFAs can publish the public release locally as a best practice, but this is not required.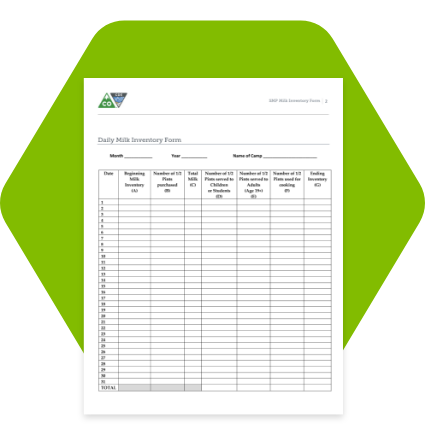 ---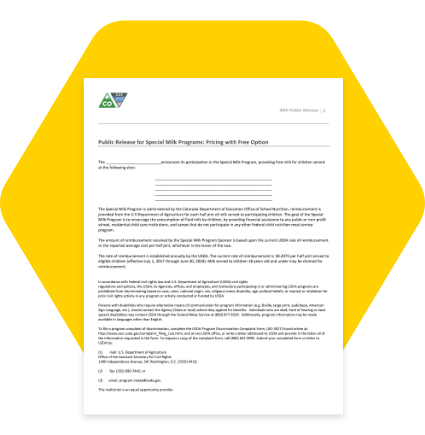 ---
Program Resources