You are here
Civil Rights
---
Nondiscrimination Statement
USDA Nondiscrimination Statement and Complaint Information for School Nutrition Programs 
Please note: the statement on the And Justice for All poster is different than the non-discrimination statement used on program materials.  The And Justice for All posters serve as the Equal Opportunity Policy notice; while the nondiscrimination statement notifies the public of the policy not to discriminate.
---
And Justice for All Posters  
As of March 22, 2016, updated 2016 And Justice for All posters have been mailed to all Colorado school food authorities for all sites participating in the National School Lunch Program
The Office of School Nutrition can provide additional And Justice for All posters to SFAs for the following:

multiple cafeterias (serving sites, not point of sale)
Summer Food Service Program sites and main office
school entrances for sites operating Breakfast in the Classroom or the Afterschool Snack Program

It is not required to have a poster for each Breakfast in the Classroom site or multiple posters for different point of sales in the same cafeteria
The CDE Office of School Nutrition will provide additional posters to Colorado school food authorities or sponsors that are participating in the USDA child nutrition programs. Please email Kristi Rolfsen for additional posters; be sure to provide the number of additional posters requested and your mailing address. 
If you are printing your own copies of the And Justice for All posters, please be advised that FNS Instruction 113-1 requires that And Justice for All posters must be 11" width x 17" height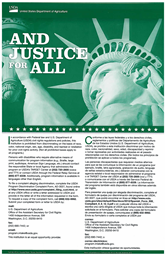 ---
USDA Memos
---
For more information on Civil Rights, email Kristi Rolfsen or call 303-866-5985