You are here
Contact Us
Office of Learning Supports
 

Kristen Brown, Ph.D., is the Director of the Office of Learning Supports. Previously, Dr. Brown led the One System Serving the Whole Child Initiative where her charge was to create an aligned  system of support across divisions at the California Department of Education. She was also the Director of Project READ which was a federally funded 5 year project that increased the reading and English language arts proficiency of students in California middle schools. As an Academic Director at a college in Minnesota, she oversaw a Bachelor of Science program.  In addition, she developed an academic achievement center that offered ongoing intervention support in math, English, study skills coaching and academic achievement for students. In this capacity, she also chaired a student success committee made up of college division representatives and wrote the annual student success strategic plan for the college.  Dr. Brown holds a PhD in Education Administration, Policy, and Leadership from the University of Southern California.
---
Adam Collins, Ph.D., is a COMTSS Specialist and the Statewide Bullying Prevention Manager in the Office of Learning Supports. Dr. Collins most recently served as a K-5 school psychologist in the Adams 12 School District where he had first-hand experience in the development and practical application of MTSS, RtI, and school-wide bullying prevention. He received his doctorate degree from the University of Nebraska-Lincoln in School Psychology with a focus on bullying prevention and intervention. Dr. Collins has authored several books and presented on bullying prevention to educators across Colorado, the U.S., and internationally.
---
Lynne DeSousa, M.S., is a COMTSS Specialist and the RtI (Response to Intervention) and PBIS (Positive Behavioral Interventions and Supports) Integration Coordinator in the Office of Learning Supports. In more than 26 years in education, she has served as a CDE Regional Implementation Consultant, a district PBIS/Mental Health coordinator, school-based PBIS Facilitator, a school psychologist and a counselor. Paramount to these experiences have been the ability to provide guidance on how to align and integrate various behavioral and mental health efforts into a layered continuum of evidence based practices that matches supports to student need.  Specific areas of professional interest include improving the implementation of multi-tiered behavioral frameworks, social emotional learning, trauma responsive approaches, classroom management, school-wide bullying prevention and intervention, individual/small group counseling, and functional behavioral assessment and individualized behavior support planning. Her unique perspective and varied experiences have afforded her the opportunity to speak to the integration of trauma responsive practice across tiers of supports to audiences across the country. Lynne has an M.S. in School Psychology at California State University, Fresno.
---
Erin Ax, Ph.D., is a COMTSS Specialist for the Office of Learning Supports. Prior to joining CDE, Dr. Ax collaborated with school districts and BOCES across New York State where her independent practice focused on evidence-based academic and behavioral intervention planning, implementation and evaluation. She received her doctorate degree from the University of South Florida in School Psychology with an area of emphasis in pediatric health issues. Dr. Ax has co-authored book chapters and presented her research on such topics as the relationship between formative assessment and state achievement tests as well as implementing RtI at the elementary and secondary levels. She has served as adjunct and full-time faculty at several graduate programs across the country. 
---
Evan Daldegan, M.A.
COMTSS Specialist
720-990-1713
Email Evan
Evan Daldegan, M.A., is a COMTSS Specialist for the Office of Learning Supports. Evan earned his undergraduate degree in Social Sciences and Secondary Education at the University of Northern Colorado. Shortly after graduating, Evan discovered a passion for special education and completed his Master of Arts Degree in Special Education. Evan has taught students as a special education teacher and general education teacher at the elementary level for 10 years prior to joining CDE. He specializes in RTI, behavioral supports, and special education innovations. Evan has a passion for collaboration and enjoys working with diverse populations. 
---
Milcah Hawk, Ed.S., NCSP is a COMTSS Specialist for the Office of Learning Supports. Milcah received her educational specialist degree (Ed.S) in School Psychology from the University of Colorado at Denver. Over the last 25 years, Milcah has been passionate about building Trauma-Responsive environments and reaching at risk youth. Starting her education career as a Teach for America Corps member, she spent many years teaching in both general education and special education classrooms, worked as a national trainer for the Why Try? multi-media therapy curriculum, and has served schools as a Nationally Certified School Psychologist in the United States and Latin America. Through her current work with the Colorado Department of Education in districts throughout south central Colorado in the San Luis Valley, Milcah has supported the implementation of COMTSS. This work has increased positive learning environments through identifying social-emotional and educational needs of students and designing effective systems to reach them. 
---
Rebecca Knighton, Ph.D., is a COMTSS Specialist for the Office of Learning Supports. She serves the North Central and Northeast regions of Colorado. Prior to working for the state of Colorado, she was a general education Behavioral Interventionist, Gifted and Talented Specialist and integral member of a middle school's MTSS and individual student problem solving teams. She secured and managed two grants to support the development of systems-level social emotional and behavioral supports for middle school students. She has led professional development at the school, district, and state levels in PBIS, MTSS, increasing staff buy-in, and understanding students' social emotional and behavioral needs. She has a passion for helping school staff members build their capacity to help at-risk youth change the trajectory of their lives. 
---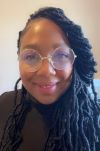 Arlisha Lawson-Watford, Ph.D.
COMTSS Specialist
720-822-9486 (cell)
Email Arlisha
Arlisha Lawson-Watford, Ph.D., is a COMTSS Specialist with the Office of Learning Supports. She is a Colorado native and shows her passion for helping her community through service as an educational leader in southern Colorado. Arlisha has been in education for 10 years, starting as a music teacher and then moving into administrative roles after achieving her M.S. in Organizational Leadership and Development from the University of Denver and her M.A. in Educational Leadership from Argosy University. Arlisha is committed to lifelong learning and supporting student success in self-discovery and self-love through whole child development, inclusive practices and leadership, restorative justice, and educational equity. In her free time, she enjoys spending time with her family and pets.  
---

Veronica Starcher, M.A.
COMTSS Specialist
720-388-0373 (cell)
Email Veronica
Veronica Starcher, M.A., is a COMTSS Specialist for the Office of Learning Supports.  Originally from Northeast Ohio, Veronica has been a resident of the San Luis Valley for seventeen years, teaching in the Monte Vista Public School District. Receiving her B.A. in Music Education from Kent State University and her M.A. in Music Education from Adams State University, Veronica has nineteen years of classroom teaching experience in elementary music, math and reading interventions, and online instruction. Additionally, Veronica is an Adjunct Professor of Music at Adams State University, teaching Elementary Music Methods for Music Education Majors, and has also presented at Orff and Kodaly workshops on the power of a positive classroom environment in the elementary music classroom. With over a decade of experience in School Wide Positive Behavior Interventions and Support leadership and six years of MTSS leadership, Veronica is passionate about supporting teachers in their work to foster student growth and success. Outside of her job, Veronica enjoys spending time with her family, exercising, listening to and making music, and traveling in Europe with her husband. 
---
Meghan Statton, MSW, is a COMTSS Specialist with the Office of Learning Supports. Meghan has worked in education for the last 17 years, and her background in mental health, educational leadership, and program development provide her with a unique lens through which she views her work. Most recently Meghan worked in Aurora Public Schools, where she spent five years at the district level supporting MTSS and PBIS implementation before transitioning back to a building as an elementary school administrator. Meghan received her B.A. in English Literature and Gender Studies from the University of Puget Sound, her Masters in Social Work from Fordham University, and her leadership certification from the University of Denver. Meghan is originally from Colorado and is excited to support systems work at the state level in hopes of creating schools and communities that allow EVERY student to achieve a successful future.
---
Sean Taylor, M.Ed., is a COMTSS Specialist, for the Office of Learning Supports. He has over 29 years of experience in education. In Texas, he served as a Special Education teacher, as well as an Assistant Principal for both elementary and high school. In Colorado, he has served as: middle school Special Education teacher, elementary school Principal, Director of Assessment, and Director of Academics. He has developed many structures for Colorado school districts, led professional development, and co-chaired the Post-Secondary Workforce Readiness Committee in partnership with Colorado higher education. His work in a variety of educational settings has given him an opportunity to implement and facilitate a variety of MTSS strategies at the classroom, building, and district levels.
---
Christina Wainwright, M.A. 
COMTSS Specialist
720-415-8161 (cell)
Email Christina
Christina Wainwright, M.A., is a COMTSS Specialist for the Office of Learning Supports. Christina earned her undergraduate degree in History as well as a Teaching License from the University of Colorado, Denver. She continued her studies at UCD earning a Master's in Special Education and completing coursework in Educational Psychology. Christina's background includes teaching in facility and public-school environments, in both general education and special education settings. Prior to joining CDE, Christina coached staff in Affective Needs Programs and provided behavioral consultations and staff training in a large urban district.
---