You are here
ESEA Regional Networking Meetings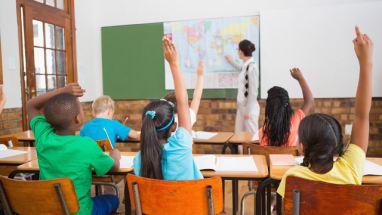 Regional Networking Meetings
The Office of ESEA Programs is excited to provide an opportunity for targeted local support in the form of quarterly Regional Network meetings in different locations throughout Colorado.  Any district or school personnel are welcome to attend these meetings.  The purpose of these meetings will be to provide a forum for stakeholders to engage with Federal Programs staff and with other professionals from the region, to communicate local updates, needs, and concerns.  
All school and administration staff is welcome to attend ESEA regional networking meetings, particularly individuals responsible for Titles I, II, and III. A variety of topics and areas of administration will be discussed and presented, including topics related to Titles I, Title II, Title III, Title IV, Federal Guideline updates, and more.
---
September Regional Network Meetings & The New Directors' Meeting 
The Federal Programs Unit, at the Colorado Department of Education, will be facilitating a series of New Directors' Meetings in September along with the Fall Regional Network Meetings. This is a joint venture between the Offices of ESEA Programs, Culturally and Linguistically Diverse Education (CLDE), and Migrant Education Program (MEP).
The purpose of the half-day New Directors' Meetings is to provide an introduction to ESEA (Titles I through V including Titles IC and IIIA) program requirements, with a year-at-a-glance of the work to be done over the school year. This session is designed for any new ESEA, CLDE, or MEP directors, coordinators, or facilitators, as well as any district staff who would like a refresher on ESEA programs.
The purpose of the full-day session or September Regional Networking Meeting (RNM) is to provide a deeper understanding of program requirements and network with other districts to learn how they are implementing program requirements and delving into evidence-based strategies, interventions, and activities that leverage use of ESEA funds.
The content will be covered over one and a half days and will discuss the following topics:
ESSA Program Requirements (Title IA, ID, IC, II, III, IV & V)
Civil Rights requirements for English Learners
ESEA Monitoring
Comprehensive Needs Assessment
Program Evaluations
ESSA Accountability and Planning Requirements, including Stakeholder Engagement
The content and structure is targeted for any new Federal Program directors and staff, but any district staff that works with ESEA, MEP, or ELD programs and would like to participate is more than welcome! If you have any questions please reach out to your Regional Contact. District Accountability Contacts are encouraged to attend the afternoon of the full-day September Regional Network Meetings.
Glenwood Springs (Western Region)
1405 Grand Ave.
Glenwood Springs, CO 81601
September 3rd from 11:30pm to 3:30pm ~ New Directors
September 4th from 9:00am to 3:30pm ~ September RNM
Littleton (Metro Region)   
7706 W. Bowles
Littleton, CO 80120
September 5th from 9:00am to 3:30pm ~ September RNM
September 6th from 9:00am to 1:00pm ~ New Directors
Limon (Northeast Region)  
East Central BOCES
820 2nd St.
Limon, CO 80828
September 10th from 11:30am to 3:30pm ~ New Directors
September 11th from 9:00am to 3:30pm ~ September RNM
La Junta (Southeast Region)
Santa Fe Trail BOCES
302 Colorado Ave
La Junta, CO 81050
September 12th from 9:00am to 3:30pm ~ September RNM
September 13th from 9:00am to 1:00pm ~ New Directors
Alamosa (Southwest Region) 
San Luis Valley BOCES
2261 Enterprise Dr
Alamosa, CO 81101
September 16th from 12:00pm to 4:00pm ~ New Directors
September 17th from 9:00am to 3:30pm ~ September RNM
Past Meeting Notes 
February RNM (PPT) (2019) - This PowerPoint includes the following:
USDE Resources
EL Toolkit
Supplement, not Supplant Draft Guidance
CDE Updates
Post-award Revisions
Comparability
Monitoring
Using the Comprehensive Needs Assessment to Inform Title Programming
Schoolwide and Targeted Options
Leveraging Federal Funds to Address Priorities
On the Horizon
 Nov/Dec RNM (PPT) (2018) -This PowerPoint includes the following: 
CDE Updates

Consolidated Application/Post Award Revision (PAR)
CDE Supports Contacts
Equitable Distribution of Teachers
Website
Improvement Planning

Monitoring + Workshop
---
Please click here for ESEA Virtual Regional Networking information.