Developmentally Appropriate Assessment
Providers who participate in the Results Matter program use assessment systems such as Teaching Strategies GOLD® online and the HighScope COR to assess learning and development in Social-Emotional, Language and Literacy, Math, Science, Creative Arts, Physical Development and Approaches to Learning. Through authentic assessment strategies such as ongoing observation, portfolio documentation and completion of developmental checklists, they identify and plan for the instructional needs of young children in their care.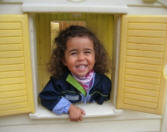 Online Data Systems
Child assessment results are recorded using online systems which allow immediate access to a variety of progress reports, Colorado standards reports and data exports at the child, classroom, site, program and state level. Plans are in place to link Results Matter child outcomes data with the State's K-12 data system in order to study longitudinal results for children served through Colorado's early childhood system.
Professional Development
Results Matter offers workshops on observation and assessment skills as well as specific assessment systems. A downloadable video series is now available to further support providers in the field. And, to encourage the use of ePortfolios, hands-on training is now offered for those wishing to improve their use of digital media.
Family Outcomes
Annual survey data provides information about how well Colorado's early childhood programs and communities are meeting the needs of families. This information is now linked to specific schools and programs in order to support continuous quality improvement efforts and community systems work.
Who participates in Results Matter?
47,000 children who participate in programs and services such as Preschool Special Education*, the Colorado Preschool Program*, School Readiness Quality Improvement Program Grantees, Family Child Care Homes, Child Care Centers, Early Head Start, Head Start and Charter School Preschool Programs. (*participation required)
---
Resources