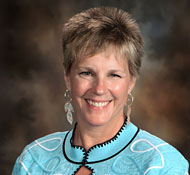 Leanne Emm, Associate Commissioner of School Finance and Operations
Leanne Emm was appointed assistant commissioner for school finance at the Colorado Department of Education in 2011. Prior to joining CDE, Emm worked for Jeffco Public Schools in the areas of budget and finance for almost 14 years. While at Jeffco, she was also involved with federal programs, pupil counts, debt issuance and system improvements.
Emm also worked for Jefferson County Public Libraries running the business office and also served as the city accountant for a small Denver metro city. Leanne has a bachelor's degree in accounting, and holds a master's degree in public administration from CU-Denver.
---
Barbara Hickman, Associate Commissioner of Quality Instruction and Leadership
As FUSD Superintendent for seven years, Hickman was responsible for 15 schools, almost 10,000 students and 1300 employees. She has worked with other agencies, FUSD Governing Board, Arizona School Boards Association and her administrative team to further the success of the district. Under her leadership, FUSD has successfully passed one bond and two maintenance and operations budget overrides at times where many communities have been unsuccessful in doing so. She co- led the facilitation of the FUSD Science, Technology, Engineering and Math (STEM) community City recognition. She championed a State Recognized Teacher Evaluation System and for the second year in row, FUSD has been recognized with a Distinguished Program Award from Apple. FUSD has also been placed on the College Board's 5th Annual Advanced Placement District Honor Roll for significant gains in student access and success.
 She is a participant of, The Alliance, Chamber of Commerce and ECONA and presents countless times each year to area groups interested in learning more about FUSD. She belongs to several professional organizations including the Association for Supervision of Student Curriculum and Arizona School Administrators. She volunteers with Friends of Camp Colton which benefits 6th grade students throughout the school district and community.  Ms. Hickman has been a leader in developing public/private partnerships within FUSD and the Flagstaff community, including FMC's FitKids at School, which is becoming a model for other school districts in the state. She also mentors, both formally and informally, colleagues interested in becoming certified as principals and as superintendents. Ms. Hickman has been published in nationally recognized professional journals and represented FUSD and Northern Arizona University in April of 2015 when part of her doctoral work was accepted to the American Educational Research Associations' national conference.
Hickman has a B.A. in Geology and a B.S. in Science Education from the University of Minnesota, along with a M.A in Leadership from Saint Mary's College in Moraga, California. She expects to complete her doctorate at Northern Arizona University this year. In addition to working as a middle school science and math teacher, she taught at the Keystone Science School, and was a hikemaster at the YMCA of the Rockies in Estes Park. In addition to classroom teaching, she has held many different roles in school administration, from an assistant principal to an assistant superintendent. 
---
Roseyn Hood, Associate Commissioner of Strategic Partnerships
Roseyn Hood was appointed Associate Commissioner of Strategic Partnerships at CDE in January of 2016. Prior to joining CDE, Hood was a public educator in the Phoenix area for over two decades. At the building level, her role as Principal at Higley High School in Gilbert, Arizona was proceeded by other administrative assignments including, Assistant Principal/Curriculum at Hamilton in the Chandler Unified School District, Arizona's largest comprehensive high school with nearly 4000 students, as well as Assistant Principal/Athletic Director at Desert Vista High School and Activities Assistant Principal at Marcos de Niza High School, both in the Tempe Union District. Hood was selected as Principal of the district-wide Summer School Program several years in TUHSD.
Beyond her site work, Hood served as the Secondary Education Specialist in Chandler USD, working directly for the Assistant Superintendent servicing over 20,000 students in grades 7 through 12 in both the traditional and alternative settings. During this time, Hood introduced and implemented the District Choice State Testing model of the ACT to all high school juniors, as well as the ACT EXPLORE assessment to 8th grade students throughout the district. While at the district, Hood also headed up the creation of a state-mandated, district-wide anti-bullying protocol for CUSD, including the training of all classified and certified employees; developed universal practices and expectations in the K-12  Registration/Enrollment/Attendance arena; and introduced the use of the National Student Clearinghouse's Student Tracker research and results to define post-secondary pathways, evaluate effective college readiness strategies and verify student outcomes with regards to college enrollment, academic success rates and degrees and certifications earned by graduates of Chandler USD.
Hood has worked extensively in support of the College Board's vision around Access and Equity, leading initiatives to increase Advanced Placement enrollment and testing for all students at both the site and district levels. Under her leadership, Higley High School's participation and testing numbers increased exponentially each year. As a result, in 2014 and 2015, Higley was recognized on the Washington Post's list of "America's Most Challenging High Schools," ranked #15 and #14 in Arizona respectively. With a focus on open access to the college-ready, rigorous classroom, she created and implemented a pathway that tripled enrollment in Honors PreCalculus among underclassmen, increasing numbers in AP Calculus BC, ultimately leading to the addition of Multi-Variables/ Differential Equations as a fourth year of Math for this population. An advocate of the comprehensive experience, Hood ensured the continuation of the school's Air Force ROTC program witnessing a 56% increase in two years, supported an expansion in CTE programming with a 4-year Engineering and Robotics focus, and insisted on vocal music opportunities for elementary and middle school students in Higley's feeder pattern. Hood was Site Coordinator for the inaugural years of AVID (Advancement Via Individual Determination) at Hamilton High School, one of Arizona's first participants in the dynamic college readiness and success program for students in the academic middle. From this group, over 95% successfully matriculated directly to the 4-year college or university setting, with a significant number continuing on to various graduate programs.
Hood begin her career in education in the Social Studies classroom, teaching American Studies, United States/Arizona Government and World History/Geography. A proud product of JEFFCO Public Schools, Hood attended Allendale Elementary, Drake Jr. High and is a graduate of Arvada West High School. She holds a B.A. from Duke University, double majoring in Political Science and Religion. After earning her Post-Baccalaureate in Secondary Education, Hood completed her master's degree in Educational Administration and Supervision.
---
Alyssa Pearson, Interim Associate Commissioner of Accountability, Performance and Support
Alyssa Pearson has worked at the Colorado Department of Education for the past 12 years, and is currently serving as the Interim Associate Commissioner for Accountability, Performance and Support. She will facilitate the work of the state's special education programs, federal programs including Title I, support for local school districts and improvement planning and accountability systems. Alyssa will also continue in her role as Executive Director for Accountability and Data Analysis, in which she's served since February 2012.
Additionally, while at CDE, Alyssa has supported Title I programs, coordinated and led the No Child Left Behind accountability and data reporting requirements, written a successful proposal to the U.S. Department of Education for approval for use of the Colorado Growth Model for federal accountability, and ensured approval of the state's ESEA waiver from the U.S. Department of Education. She has enjoyed working with internal and external partners to continually improve the work of CDE, and ensure that data is used securely, responsibly and effectively in order to improve our state education system.
Prior to her time at CDE, Alyssa taught 5th graders in Denver Public Schools. She holds a bachelor's degree in psychology and an elementary education certification from the University of Colorado at Boulder as well as a master's degree from the Harvard Graduate School of Education.
---
Vacant, Chief Communications Officer
---
---
Vacant, Associate Commissioner of Innovation