You are here
2015 Colorado Teacher of the Year
Kathy Thirkell, 2015 Teacher of the Year
Kathy Thirkell was named the 2015 Colorado Teacher of the Year by State Education Commissioner Robert Hammond at an assembly held at Thirkell's school on Oct. 13, 2014. Thirkell is a math teacher at Lewis Palmer High School in Lewis Palmer School District 38.
Thirkell was selected for the honor based on her depth of experience, passion and expertise from her 33 years as a math teacher. She demonstrates excellence in all levels: she has an outstanding rapport with her students, colleagues, parents and administrators, while also contributing to the field at the national level. She constantly strives to perfect her craft, and her impact on the community is immeasurable.
Thirkell is a career teacher, having spent her entire 34 year tenure at Lewis-Palmer High School. She remains as passionate about teaching today as when she first began. Her classroom is a true mathematical playground where students learn quickly that they will work harder than they ever have, make greater gains than they ever have, and learn and appreciate a new way to communicate about the world around them through mathematics.
As the new Teacher of the Year, Thirkell will get many professional development opportunities through the National Teacher of the Year program and will even get to attend a ceremony at the White House and go to Space Camp for a week. Adams State College, SMART Technologies, Colorado Free Masons and Blue Bell Ice Cream provided sponsorship for the award.
Kathy Thirkell can be reached at:
Lewis Palmer High School
Lewis Palmer School District
1300 Higby Road
Monument, CO 80132
719-488-4720
kthirkell@lewispalmer.org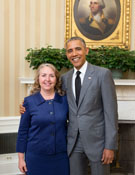 2015 Colorado Teacher of the Year, Kathy Thirkell with President Obama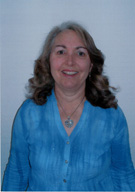 2015 Colorado Teacher of the Year, Kathy Thirkell