You are here
2007 Colorado Teacher of the Year
Susan Ryder
Teacher, Grade 7
Estes Park Middle School, Estes Park
Park R-3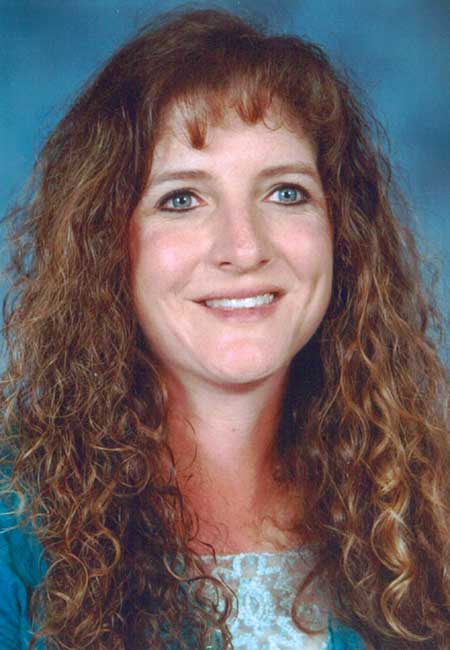 Susan Ryder
Estes Park Middle School
"You are the Author of Your Own Life Story." These words are written in purple across Susan's classroom wall. She encourages her students everyday to take charge, take action, and take care on their life-long journey of learning. Susan entered the teaching profession because she wanted to make a positive impact on students' lives. Her students improve reading skills by reading novels that focus on cultural diversity. Susan helps her students develop their writing skills by having them compose character sketches for the passengers aboard the Titanic and by writing their "Senior Letter" time capsules. These letters are opened at their high school graduation. A former student met Susan recently, and she told Susan that the methods that she learned in Susan's writing class were extremely beneficial as she progressed through college. This is an example of the positive impact Susan has on her students.
Susan believes that the need for differentiated instruction is one of the important issues facing teachers today. A "one-size fits all" approach to teaching will not provide a quality education for all students. Teachers must be able to adjust their teaching methods and curriculum to meet every student's needs. Differentiated instruction addresses the needs of advanced learners and provides the scaffolding necessary for all at-risk students. Susan also believes gaps begin to shrink when teachers vary their methods to meet individual students needs. It also enables all learners to achieve academic and personal growth.
Susan can be reached at:
Park R-3
Estes Park Middle School
1500 Manford Avenue
Estes Park, CO 80517
970-586-4439 ext. 3278
susan_ryder@psdr3.k12.co.us
For additional information about this program please contact Kim Burnham at: Burnham_K@cde.state.co.us.