You are here
2006 Colorado Teacher of the Year
Adele Bravo
Teacher, Grade 1
Louisville Elementary School, Louisville
Boulder Valley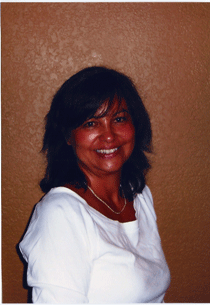 Adele Bravo
Louisville Elementary School
As a member of the Luiseno Band of the Shoshone Indians and growing up with family living on the La Jolla Indian Reservation in California, Adele observed that pride in yourself, hard work and determination were the key to success. Adele knew that she wanted to be the one to make a difference for others. She realized that a quality education was the key to attaining one's dreams. She became determined to achieve a high quality education for herself and to be the one to provide it to others.
Adele began her teaching career in a small, private school in Whittier, California and then in the Baldwin Park School District. She took 8 years off to raise her two daughters and then moved to Louisville, Colorado. After completing her Master's degree in Education at Regis University, she began teaching for Boulder Valley School District. During her term at Boulder Valley School District she has taught first grade, second grade, and multi-age classes at Louisville Elementary School. She opened the brand new school, Eldorado K-8 and taught second grade. Adele then took a position as Literacy Coach for the district. She planned and facilitated all the staff development in K-5 literacy for 3 elementary schools along with workshops for all district teachers.
Adele has also been a site coordinator for Summer Literacy Academy and ESL Summer School for the past 5 years.
Adele is married with two daughters in college. Her family still lives on the La Jolla Indian Reservation in Southern California.
"I am not a teacher, but an awakener . . ." Robert Frost
Adele can be reached at:
Boulder Valley
Louisville Elementary School
400 Hutchinson St.
Louisville, CO 80027
303-666-6562
adele.bravo@bvsd.org
For additional information about this program please contact Kim Burnham at: Burnham_K@cde.state.co.us.