You are here
Colorado Teacher of the Year - 1999
Sharon Ivie
Eastridge Community Elementary School
Cherry Creek School District 5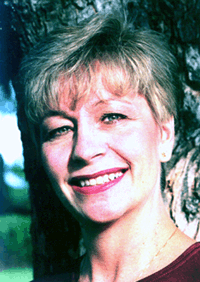 Sharon Ivie
Eastridge Community Elementary School
A very busy football mom, soccer coach, educational topics speaker, officeholder in a philanthropic sorority and elementary school teacher now has another job to handle: 1999 Colorado Teacher of the Year.
At a special banquet held Dec. 8 in the Denver Museum of Natural History and sponsored by the Colorado Department of Education and a number of local businesses, Sharon Ivie, a third-grade teacher at Eastridge Community Elementary School in Aurora, received this honor, Colorado's oldest state-wide education award. Along with the gifts and cash awards, Ivie will now take on duties as a spokesperson on Colorado education issues and represent Colorado in the national Teacher of the Year competition.
Ivie, who decided on teaching as her future career at the tender age of nine, is the kind of teacher that any student - or any community - would love to claim. And her community does. Students and parents at Eastridge point to the atmosphere in Ivie's classrooms, where every student, no matter what their background, feels secure enough to rise to the challenges Ivie consistently sets before them. Meanwhile, fellow teachers and administrators mention the leadership role she has taken on critical education issues such as teacher accountability, student literacy, and the development of district standards to align with the state's new academic standards.
Then there are those who have simply met her through her work supporting the local Safe House or Children's Hospital, or coaching one of her children's sports teams, or attending a Girl Scout meeting, or at one of any number of other community activities she's involved with. To a person, they bring up her humor, her patience and her enthusiasm in the face of just about any challenge.
The honor of being named Colorado Teacher of the Year came to Ivie as the end result of an arduous selection process. Each nominee for Colorado Teacher of the Year submits a 14-page application that is reviewed by a selection committee made up of representatives from the education community. Semi-finalists then undergo a personal interview with the committee. Those still in the running after the interview are visited in their classrooms by the committee before the final choice is made.
Over her 21-year career, Ivie has taught in several Colorado communities, including Brush, Fort Morgan and Craig, before settling in the Cherry Creek School District. In that time she has been nominated for Fort Morgan Teacher of the Year and Channel 9 Teacher of the Year, and has received her district's "You Make a Difference" award. Not surprisingly, given her active community life, Ivie is a firm believer in forming business/community/school collaborations, has spoken across the state on "The Power of Collaboration," She was recently invited by the Public Education and Business Association to present the topic at the prestigious DeWitt Wallace National Site Visitation event.
In the face of all her commitments, it would seem miraculous that Ivie found any time to teach. But by her own admission, children have always come first, and everything else is a natural outgrowth of her concern for her young charges.
"Children seem to fill my life, both in my career and as a mother of four," she says. In order to be prepared to embrace the future, Ivie says, children need to be capable and confident problem solvers, creative thinkers, risk-takers, communicators, and citizens capable of setting and meeting high standards. Ivie's greatest joy still lies in helping her students develop those skills and that vision for themselves.
"How can I explain the magnitude of satisfaction, the joy that comes from great and tiny daily successes experienced by my students?" Ivie asks, and then answers her own question. "I can't -these rewards are indescribable, except to say that my being a teacher is who I am. Each time one of my students succeeds, it's my victory as well."
For additional information about this program please contact Kim Burnham at: Burnham_K@cde.state.co.us.