You are here
Colorado Teacher of the Year - 1998
Mark Mavrogianes
Northglenn High School
Northglenn-Thornton 12 School District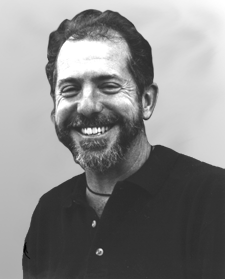 Mark Mavrogianes
Northglenn High School
Mark Mavrogianes was named 1998 Colorado Teacher of the Year at a special banquet held December 3, 1997 at the Denver Museum of Natural History. He is a social studies teacher and student council sponsor at Northglenn High School in Northglenn-Thornton District 12. In marked contrast to Pam Schmidt, Colorado's 1997 Teacher of the Year, whose globe-trotting teaching style and unusual teaching aids -- a collection of some thirteen-odd snakes -- had garnered considerable media attention even before her award, Mark won his honors by keeping his teaching philosophy simple and his attention close to home. Both, however, share one thing in common: their students come first and they know it.
In Mark's case, this was vividly underscored in 1993 when he became the first Northglenn faculty member asked by the senior class to deliver their commencement address. As Deborah Capra, principal at Northglenn High School and one of Mark's most enthusiastic backers said, "College students are often asked to write essays about someone who had a profound influence on their life, who had a unique ability to influence their development both as students and as people. I can't tell you the number of times our former students write about Mark."
The honor of being named Colorado Teacher of the Year came to Mark, called "the Mav" by his students, as the end result of an arduous selection process. Each nominee for Colorado Teacher of the Year submits a 14-page application, reviewed by a selection committee made up of representatives from the education community. Semi-finalists then undergo a personal interview with the committee. Those still in the running after the interview are visited in their classrooms by the committee before the final choice is made.
Mark's interest in his students extends beyond his present class to the students of the future, both in his classroom and others. This perhaps explains why he chairs school improvement teams, sits on innumerable curriculum committees, presents at institutes, and leads seminars on education partnerships, as well as serving as a Colorado University Gold adjunct professor. The former Boettcher Foundation Teacher Recognition Award winner also works closely with the University of Colorado to ease a new generation of teachers into his chosen profession.
In Mark's eyes, "Schools need the constant renewal of dedicated, skilled people... I know it's easy to fall prey to cynicism, but it's vitally important that our profession continues to attract the best, the brightest and the most idealistic. One of my greatest sources of pride is the number of my former students who have gone on to become teachers themselves."
As for the unfailing loyalty and respect he wins from his students, Mark might have revealed some of his secret while speaking of his more than 18 years working with the Northglenn student council. "Working with student leaders helped me see the importance of creating and building a sense of community among kids," he said. "I came to understand that to build community you sometimes need to build the kid first. Success means more than a finished project or an "A" on an assignment. Real success is helping a young person become a more complete human being."
Mark has passion for teaching, and a strong commitment to keeping the best and the brightest as part of the Colorado teaching profession. If you would like him to speak to your school, community group, or company, please contact Jody Ohmert Nordbye (see below).
For additional information about this program please contact Kim Burnham at Burnham_K@cde.state.co.us.