Posted 01/26/2023 - 11:14am
Tags
:
ESSER I, Use of Funds
---
Welcome to the Colorado Department of Education's blog about the Elementary and Secondary School Emergency Relief Fund, where we will bring you stories about the funding created to address the immediate health and operational challenges of educating students during the Coronavirus pandemic.
For this inaugural post, we ask you to cast your mind back to March 2020 and try to remember what it was like when the world shut down. A strange novel virus was spreading across the globe. Hospitals and morgues were filling up, people were being told to stay home and schools were shutting their doors. In late March, the U.S. Congress quickly passed the Coronavirus Aid, Relief, and Economic Security Act, which included $30.75 billion nationally for an Education Stabilization Fund.
From that legislation came ESSER I, II and III.
The first bucket of funding was ESSER I, which provided Colorado a total of $121 million, of which 90%, or roughly $109 million, was to be sent directly to school districts and another 10%, or $12 million, was set aside for state activities.
ESSER I helped districts pay for activities to provide remote education, re-open schools as quickly as possible, improve air quality, make facility repairs, purchase technology, buy supplies for sanitation, provide mental health support, address learning loss, provide summer school and afterschool programs and other activities necessary to continue school operations and employment of staff.
Districts such as Jefferson County used ESSER I funding to pay for translation services to communicate updates about COVID safety policies in more than 130 different languages in the district. The Southern Ute tribe spent its ESSER I funds to buy mobile internet hotspots to increase or boost internet service so students at home could receive an online education. Pueblo 60 used the money to buy laptops for students to attend classes remotely. Ellicott School District bought buses to allow the district to transport students to school while adhering to distancing requirements.
ESSER I preceded two other ESSER funds for schools. Ultimately, Colorado received a total of $1.8 billion in federal pandemic recovery funds to support students, families and educators. Through this blog, we will provide stories behind each fund and give you detailed looks into how schools spent their money in later blog posts and will also provide informative graphics, charts and explanations about how ESSER funding was spent throughout Colorado.
Today, the threat of COVID-19 is not as dire as in the spring of 2020, but the impacts of the pandemic remain. Nevertheless, the speed at which the nation and the state came together to help schools address the immediate health and operational challenges to educate the nation's children as the world was shutting down should never be forgotten. 
As always, you can learn more about how Colorado used its ESSER funding on CDE's website.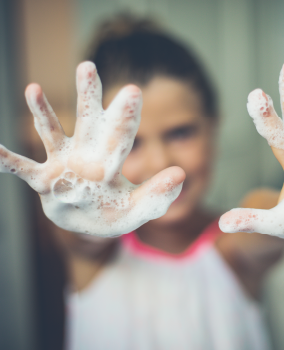 A student's soapy hands
---