You are here
Archive - Commissioner Richard Crandall's Biography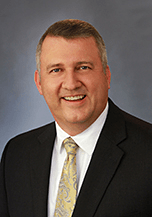 Richard Crandall
Colorado Commissioner of Education (January-May 2016)
Richard Crandall, the single finalist for Colorado's commissioner of education was officially appointed Jan. 4, 2016 in a 7-0 vote by the Colorado State Board of Education. Crandall started his role as commissioner on Jan. 19, 2016. Crandall resigned his position on May 19, 2016.
A former senator, Crandall served in the Arizona Legislature from 2007-2013 as both the house education chair and then later as the senate education chair. He resigned his senate seat when he was appointed by Governor Matt Mead to head up the Wyoming Department of Education. In addition to being a lawmaker, Rich served as a school board member for Arizona's largest district.
He earned his bachelor's and master's degrees in accounting from Brigham Young University and his master's degree in business administration from the University of Notre Dame. He is also finishing his educational leadership, doctor of education degree from Northern Arizona University. He is the founder of CN Resource, a national child nutrition audit firm and was a partner/owner/CFO at Crandall Corporate Dietitians, the nation's largest consulting dietitian firm.
Rich is married to Leann Crandall, who he sat by in 6th-grade, and together they have 13 children and five grandchildren.