You are here
2012 Colorado Teacher of the Year
Kristin Donley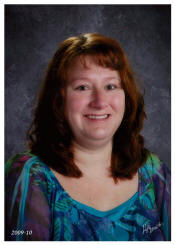 Kristin Donley was named the 2012 Colorado Teacher of the Year by the commissioner of education at a surprise assembly held at Donley's school on Oct. 28, 2011. Donley is a high school science teacher from Monarch High School in Boulder (Boulder Valley School District).
Donley says she is inspired by her students' excitement for learning. Donley has successfully collaborated with community partners to offer her students opportunities beyond the four walls of the classroom. Her partnership with University of Colorado Boulder allowed her students to spend a week at the CU Mountain Research Station in Nederland, Colo. Students were exposed to cutting-edge research where they were able to do their own research and compete competitively in the regional science fair.

Donley has taught physical science, chemistry and biology at Monarch High School for 11 years. She established and coordinated a district science research seminar to create a peer science mentorship program for elementary and middle school students. As the district curriculum coordinator, Donley offered free professional development opportunities. She believes that knowledge is gained mostly by empirical means (use of senses to investigate and acquire data) and that the scientific method is one of the best approaches to problem solving. Donley offers these techniques in her classroom to inspire her students to have a passion for learning.
Dr. Jerry Lee Anderson, Principal of Monarch High School, congratulates Kristin Donley (center) for being named Teacher of the Year. Colorado Commissioner of Education Robert Hammond (seated) joins in the applause.
Kristin Donley can be reached at:
Monarch High School
Boulder Valley School District
329 Campus Drive
Louisville, CO 80027
720-561-4200
kristin.donley@bvsd.org
For additional information about this program, please contact Kim Burnham at: Burnham_K@cde.state.co.us.