You are here
2011 Colorado Teacher of the Year
Michelle Pearson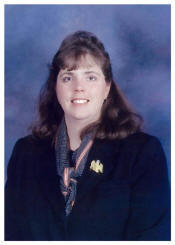 The 2011 Colorado Teacher of the Year is Michelle Pearson, a language arts and social studies teacher from Hulstrom Options K-8 in Northglenn (Adams 12 Five Star School District).
Pearson was named the 2011 Colorado Teacher of the Year by the commissioner of education at a surprise assembly held at Pearson's school on Nov. 10, 2010.
In the last 18 years, Pearson has worked diligently to strengthen and improve the teaching profession through active involvement in professional development activities and mentoring. She says that now more than ever, educators need to be supported by the community and their peers. Pearson says her greatest accomplishments are what students, families, colleagues and the community have done together.
Pearson comes from a family of educators. She grew up listening to teaching stories, digging through book sales, putting up bulletin boards and puzzling over new subjects to teach with her family.
Pearson's early passion for teaching has continued throughout her career. She has taught at Hulstrom Options School since 2004 and in Colorado since 1992. Her students say her magnetic personality is contagious. Pearson often uses artifacts and technology in her classroom to motivate and inspire her students.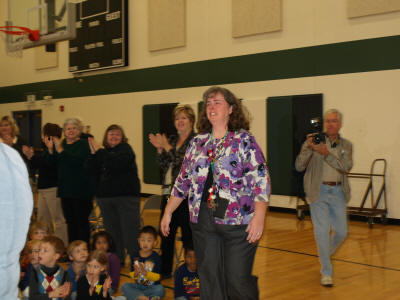 Pearson could not hide her surprise when her name was announced as
Teacher of the Year at an all-school assembly at Hulstrom Options K-8 School.
Michelle Pearson can be reached at:
Hulstrom Options School K-8
Adams 12 School District
11551 Wyco Drive
Northglenn, CO 80233
720-972-8997
kpear@aol.com
For additional information about this program, please contact Kim Burnham at: Burnham_K@cde.state.co.us.