You are here
2010 Colorado Teacher of the Year
Justin Darnell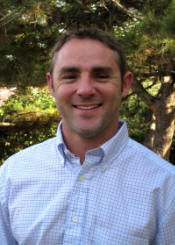 Darnell was named the 2010 Colorado Teacher of the Year by Gov. Bill Ritter at an event held on Nov. 20, 2009 in lower downtown Denver.
Darnell has worked for the last nine years as a science teacher, including the last seven at Bryant Webster K-8 School, where 95 percent of the student body is eligible for free and reduced lunch and 96 percent of the students are Hispanic including many English language learners.
In her letter of recommendation on behalf of Justin Darnell, Bryant-Webster principal Pamela Liñan wrote: "Mr. Darnell is respectful to students from cultures different than his own and has learned strategies in working with English language learners and applies them in his content area. He promotes oral language development within his science classroom. I truly believe that he is helping to foster great change and direction in the teaching of science for our student population."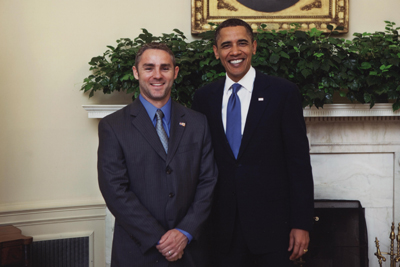 Justin Darnell, Colorado 2010 Teacher of the Year and President Barack Obama
The White House Oval Office, April 29, 2010
White House photo by Lawrence Jacks
Justin Darnell can be reached at:
Bryant-Webster Dual Language
3635 Quivas St.
Denver, CO 80211-3051
720-424-9170

For additional information about this program, please contact Kim Burnham at: Burnham_K@cde.state.co.us.