You are here
Colorado Teacher of the Year - 1997
Pam Schmidt
Thunder Ridge Middle School
Cherry Creek School District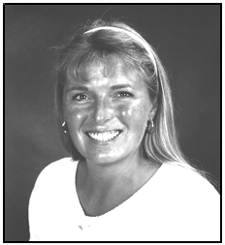 Pam Schmidt
Thunder Ridge Middle School
Pam Schmidt was named 1997 Colorado Teacher of the Year at a special banquet held December 10, 1996 at the downtown Denver Hyatt Regency. She is a science teacher at Thunder Ridge Middle School in the Cherry Creek School District.
A recent recipient of the Sertoma Service to Mankind Award, Pam takes herself and her students on an action-packed journey through life. Her passion for kids, teaching, and the sciences keeps her busy year round. During the school year, Pam teaches integrated science to eighth graders, as well as mini-courses to mixed classes of sixth, seventh and eighth graders. The mini-courses are enrichment classes that delve into marine biology, paleontology, and -- snakes!.
The popularity of these mini-courses has led to a great deal of community involvement by Pam and her students. She is also heavily involved at the district level in the development of curriculum and proficiencies, and alignment of these with the state content standards.
In addition, Pam volunteers over 500 hours each year at the Denver Museum of Natural History, primarily in the paleontology and education departments. She played important roles in the development of Prehistoric Journey, the newest permanent exhibit at the museum. Pam was a member of the Education Advisory Committee for the exhibit, as well as playing a part in the collection and preparation of fossils for the exhibit.
But it is Pam's summers that are truly eventful. From the day school is out until it's time to report back in August, she is on the road -- usually with a group of students. Through her own programs, as well as ones sponsored by Field Science Adventures and SEACAMP, Pam and various students travel to places such as South Dakota, Wyoming, Utah, California and Hawaii. In these places, she and her students can be found quarrying for fossils, rafting and hiking through glorious canyons, or SCUBA diving beneath the ocean waves. In general, you can find them learning about nature and science by bringing it to life.
Pam believes that for her to be the most effective educator possible, she must do three things with her students: engage them in learning, help them take their learning to a higher level, and show them that learning is a life-long endeavor.
Pam has great passion for teaching, for learning and for experiencing life. She would love to speak to your school, your community, or your organization. You can contact Pam at (303) 766- 0144, or by e-mail at PSslither@aol.com.
For additional information about this program please contact Lynn Bamberry at bamberry_l@cde.state.co.us.