You are here
The SPARK Special Edition - Teacher Appreciation Week
Jump to a section:
---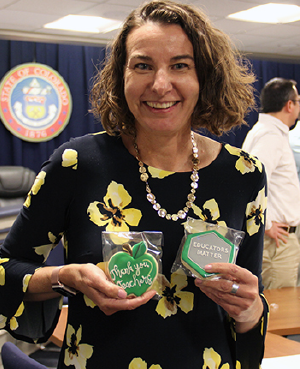 Hello Teachers,
It is no secret that you have a bigger impact on student performance than any other school-based factor. You know it, I know it, and the research backs this up. What teachers do every day to support students is incredibly important – for your students and for the future of our world.
Your students will go on to be tomorrow's leaders – taking us into space, writing novels that touch our hearts, developing technology to save the planet and healing us from injury and disease. You shape these future leaders – and thus shape our world.
I am in awe of what you do every day. At the same time, I recognize the constant pressure you are under! 
Today, the first day of Teacher Appreciation Week, is as good a day as any to let you to know how much I value what you do each and every day. It's also a good time to tell you what the Colorado Department of Education is doing to support you.
One of the main areas of our focus is to build up the teaching profession. In 2017, we issued a teacher shortage report with our colleagues in higher education, and since then we've been partnering with legislators to expand the pipeline of teachers. We now have numerous grant opportunities to help teachers in high-need areas pay for their education and to help communities recruit and retain high-quality educators.
We are also deepening our support for school and district leaders because we know the No. 1 reason teachers leave the profession is lack of support by a high-quality principal.
And we also know that meeting students' social-emotional needs is a primary concern for teachers today. To address those issues, CDE has several different programs to expand and support behavioral health professionals in schools and districts. We continue to develop ways to strengthen these programs and better align them with other state programs, so they can be more effective for you.
Clearly, we have much more to do at the state level. If you have thoughts or ideas for me, I'd love to hear them. I get great ideas from the Commissioner's Teacher Cabinet, but as always, feel free to contact me directly if you have further feedback or ideas.
This special "Teacher Appreciation" edition of the SPARK has links to deals and discounts available for teachers. We hope you'll take advantage of them.
Most importantly, we hope you know how much we appreciate what you do. Every week of the school year should be teacher appreciation week! We know how hard you work and how dedicated you are to your students' success, and we can never thank you enough.
Sincerely,
Katy
---
We know teachers spend a lot of their own hard-earned money for classroom supplies, and many companies are also aware of this. To share their appreciation, many companies offer educator discounts and special deals during Teacher Appreciation Week.
To make it easy to take advantage of these offerings, we've put together a list of the deals and discounts on this webpage. Many offers require a school or district ID.
For additional deals, visit Teachers.org or BoredTeacher.com.  Also, remember to check with your district for employee discount programs.
---
Meg Cypress, a fifth-grade teacher from Bradley International School in Denver Public Schools (DPS), was named the 2019 Colorado Teacher of the Year during a surprise assembly at her school on October 30, 2018. Ms. Cypress was selected for the honor based on her energy and for her exceptional ability to inspire and excite students, parents, other teachers and administrators.

At Bradley since 2003, Ms. Cypress started as a reading specialist as the school faced the possibility of closure. Cypress worked with the staff to bring the International Baccalaureate Primary Years Programme to Bradley to keep it open for the surrounding neighborhood. Since then the school has become a high-performing school with a waitlist. 

Ms. Cypress has built connections with the community, organizing family events such as Math Night, the Cardboard Challenge and the Annual Bradley Science Fair. In addition, she started a summer camp at Bradley with more than 150 students and was assistant volleyball coach for Thomas Jefferson High School. 

She is a Colorado native who received her bachelor of arts from the University of Northern Colorado. She has previously received the 9News Teachers Who Care Award and was nominated for the Denver Public Schools' LAMP Leadership award by her colleagues at Bradley. 
As the 2019 Colorado Teacher of the Year, Ms. Cypress is participating in many professional development opportunities through the National Teacher of the Year program, including a trip to Washington, D.C. Over the summer, she will attend the Honeywell Educators at Space Academy at the U.S. Space & Rocket Center in Huntsville, Alabama and the College Football Playoff National Championship Game in January 2020.
---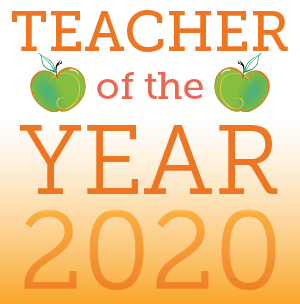 A visit to the White House, a week at Space Camp and being an honored guest at the College Football Playoff National Championship game are three more reasons why you should apply to be Colorado's 2020 Teacher of the Year.
What you'll need to apply
To be considered for the 2020 Colorado Teacher of the Year award, you will need:
Include these supporting materials:

Resume

Professional biography

Answer five response questions

Three letters of support

Short video

Publicity photograph
Not sure if you're ready to apply just yet? Nominate one of your peers instead. If you know an exceptionally dedicated, knowledgeable and skilled K-12 teacher who inspires you, nominate them to apply for the 2020 Colorado Teacher of the Year award!