You are here
Family and Community Guide for High School Visual Arts
Working Together: To support families, communities, and teachers in realizing the goals of the Colorado Academic Standards (CAS), this guide provides an overview of the learning expectations for students studying high school visual arts. This guide offers some learning experiences students may engage in at school that may also be supported at home.
Why Standards? Created by Coloradans for Colorado students, the Colorado Academic Standards provide a grade-by-grade road map to help ensure students are successful in college, careers, and life. The standards aim to improve what students learn and how they learn in 12 content areas while emphasizing critical thinking, creativity, problem solving, collaboration, and communication as essential skills for life in the 21st century.
---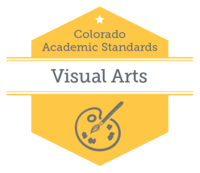 Visual Arts (adopted 2022)
Colorado high school art programs have varying curricular options for students to investigate the visual arts.  
The visual arts standards in the high school years focus on deeper understanding of the purpose of art and the artmaking. Students "tell their stories" through art making and the study of art, learning advanced studio processes, and tools and materials that support their own artistic vision. Documenting the art making process is an essential element of the visual arts standards in high school. Students examine their art making practice in relationship to other makers and cultures. Career opportunities and the arts' relationship to society are also explored. 
In High School, students:
Observe and Learn to Comprehend: Use research to construct and deconstruct works of art. Recognize the complexity of art across time and cultures. Know that the artmaking process helps to develop skills of perception and independent reasoning while increasing knowledge. 
Envision and Critique to Reflect: Use informed criteria and personal discernment to evaluate art considering how a work is perceived. 
Invent and Discover to Create: Establish a practice of experimentation to advance concepts and skill. Demonstrate growth in traditional and new media. 
Relate and Connect to Transfer: Research the ways artists express views and beliefs and how these perspectives have a social context.