You are here
Administrative Review (AR)
---
Training
Regional Trainings
Online Trainings​​​
---
AR Preparation Resources
If you need another version of a document, please contact Kerri Link.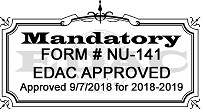 Meal Access and Reimbursement, Tips and Resources:
---
Afterschool Care Snack
Fresh Fruit and Vegetable
Special Milk
Seamless Summer Option
---
Per the United States Department of Agriculture Per the United States Department of Agriculture (USDA) Policy Bulletin SP15-2018, CACFP12-2018, SFSP05-2018, state agencies must submit requests to waive Child Nutrition Program requirements to their Food and Nutrition Service (FNS) regional office. The CDE School Nutrition Unit has submitted a waiver to the Mountain Plains Regional Office of the 3-year Administrative Review (AR) requirement and extend the review cycle that was proposed by the USDA Food and Nutrition Services (FNS) on February 22, 2019 through SP 12-2019 Flexibility for the Administrative Review Cycle Requirement. The goal of the waiver is to improve customer service and align reviews to support sponsors as they strive to run exceptional school meal programs.
---
For more information or if an alternate version of a document is needed, please contact Kerri Link or 303-866-3686.